Lynde House Museum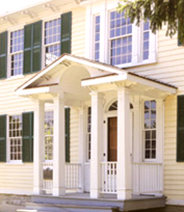 & Warren General Store
900 Brock Street South
Whitby, ON L1N 4L6
905 665 3131
Charitable Registration number -
Whitby Historical Society
BN 10820 6228 RR 0001
… a museum is all about people working together to make a difference.
Our Volunteers are Amazing! Thank you all …

Share the Vision – Work and Play together
… let's have fun along the way and make beautiful things happen!
Though many volunteers work behind the scenes we appreciate all you do.
Whitby Historical Society Board of Directors
David Chambers, President
David has been a long-time supporter of WHS, steadfast in his resolve to see the artifact collection housed in Lynde House. Over the years when things looked bleak, he never gave up hope that we would achieve what has seemed impossible in many ways. David has worked tirelessly in and out of the spotlight to create this legacy of what was started as a Canadian Centennial Project by a small group of dedicated volunteers. One of whom was, former Town of Whitby Archivist, Brian Winter's father. Without David's never-give-up attitude, his calm and careful leadership one wonders if one of the largest collections of artifacts in Ontario would still be in storage and not as beautifully on display at Lynde House Museum as they are presently. David will be the first to tell anyone who asks about how difficult the transition was, and yet how fulfilling to see it now. "No one would imagine how far we have come by seeing it today, he says." With only a few supporters, he led us all on this journey, one day at a time, one day of faith, one day you see bleakness ahead, the next a miracle!

Alan Breck Stewart, Secretary – Treasurer – Operations Consultant
Breck has been a supporter of WHS for years and was voted Secretary-Treasurer in 2015. He has the unenviable job of keeping track of finances and submitting financial reports. Breck also carries out a dual role as Operations Consultant helping WHS manage various aspects of running Lynde House Museum. Researching and providing training in the use of new technologies, mentoring those involved to keep an eye on key results in our ever-changing world. Just because we are historic does not mean we ignore the many aspects of operating a successful museum in an age of disruptive yet forward thinking technology.
"We are looking to create the best museum experience possible in Whitby," he says.
Monica Lawlor, Vice President – Volunteer Appreciation Team Leader
Monica is a long-time volunteer with WHS and has been successful in recruiting many volunteers to get involved at Lynde House Museum. She is currently working with other members of the board to establish a vibrant community of museum volunteers who enjoy working at and for Lynde House Museum. Bringing together volunteers from every walk of life, with many varied desires and skill sets takes a lot of energy and appreciation for all involved. Together we grow, one step at a time.
Gloria Murkar, Board Member
Gloria has been an ever-steadying influence for many years with WHS. She likes working behind the scenes yet is ever ready with an encouraging word for her fellow volunteers. Whether it is greeting visitors to the museum or baking a pie for a fundraiser, you can always count on Gloria to lend a helping hand at whatever needs doing.
Denise Lagundzin, Board Member – Special Projects
Denise is one of our newest board members having been welcomed at our AGM on Dec. 1 2016. She has an outgoing personality and is definitely a people person who inspires others to work together and get things done. Denise is working on special projects and fundraising outreach in the business community.

Roderick Angevaare, Board Member
Roderick is a long time member of Whitby Historical Society and has been involved in various capacities in saving Lynde House when it was still in its original location on Dundas Street. Roderick is presently active in the cataloguing of artifacts. A wealth of knowledge of the history of Whitby and area we are please to have welcomed him to the board at out AGM on Dec. 1, 2016
Linda Calder, Board Member
Linda Calder is a former teacher. She is a contributing writer for The Local Biz Magazine, a Durham Region Community Publication. Linda has been involved with the Oshawa Museum and we are happy to welcome her to the board as of January 10th, 2017.
Whitby Historical Society would like to thank all of its board members, supporters and volunteers for their service.
Together we do our best each day to move forward and create a wonderful museum experience.

Senior Volunteer Award Winner
Congratulations to Monica Lawlor, Vice-President
for being chosen as the 2016 Senior Volunteer Award Winner
Monica Lawlor, Vice President, received the Volunteer of the Year Award
from Whitby Mayor Don Mitchell at the Whitby Senior's Centre.
Read more in Durham Region Metroland Media