Lynde House Museum …events in Review 2017
Lynde House Museum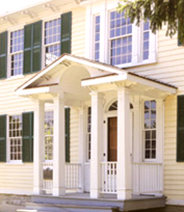 & Warren General Store
900 Brock Street South
Whitby, ON L1N 4L6
905 665 3131
Charitable Registration number -
Whitby Historical Society
BN 10820 6228 RR 0001
January through July – Celebrating Canada 150 – Museum Events
January 2017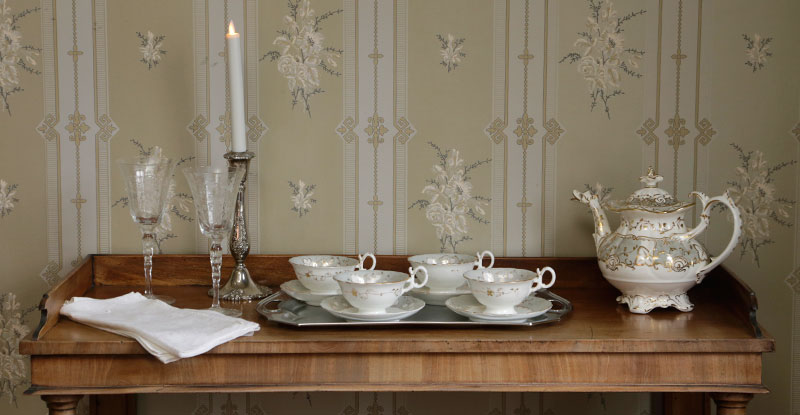 Volunteers were busy taking down Christmas decorations and re-displaying the museum furnishings. The above  shows the buffet side table in the Dining Room which is set with a vintage tea set.
January 10th  – Board Meeting: The Durham Community Foundation suggested hiring a consultant to offer recommendations. Peter Hoppe of Fundamentals has been working to discover ways to bring the museum forward and is interviewing the board members and staff as well as having taken an extensive tour of the facilities in November 2016. Mr. Hoppe will focus on: Creating a short and long term Strategic Plan, Fundraising Plans including Grant Writing, and Operational Planning. Since the OTF Seed Grant – has a February deadline, Peter has offered to work with Trina Astor-Stewart to advise on this application.
Inventory and Catalogue of Artifacts: Ongoing… Joany Burtinsky has been working tirelessly in the basement at the Visitor Centre making out catalogue sheets. Among them an extensive collection of textiles that will need proper archival storage methods in future. Rod Angevaare and other volunteers have been working in the Lynde House basement filling out sheets there. We are reviewing how this process is working and areas to speed up the process of creating the data base. Monica Effenberger, Assistant Curator is beginning to create these entries.
February 2017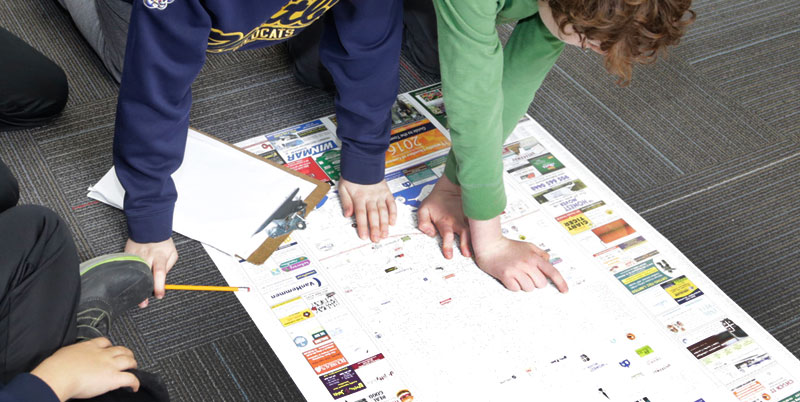 School Visits: Four grade 7 and 8 classes from John Dryden PS visited the museum for all day programs and scavenger hunts. The program was developed on a volunteer basis to coincide with official school curriculum by Lauri Geuzebroek; Program Facilitator, Social Studies 1-6, History & Geography 7 & 8,Canadian World Studies, Social Science & Humanities, Business Studies 9-12, Durham District School Board.
In the photograph shown is a close-up of students as they look at an old map of Whitby during one portion of the program at the Visitor Centre. Students loved the program and were enthralled with the artifacts and history finding out new things about their home town. The scavenger hunt entailed going through downtown Whitby and finding historic plaques. Students found this a lot of fun and we were actually surprised at how many said they had never walked downtown before.
A black walnut upholstered sofa c.1870, formerly belonging to the Hatch family was donated by brother and sister Fred and Lynn Cane. "The sofa came out of the second floor of the Hatch family carriage house at an auction in 1969 at that time the last of the Hatch family had sold the house. It was purchased by Mr. Bill Cane whose mother-in-law was Mrs. Fred McBrien (nee Lynde)," writes Fred Cane. The Sofa is now on display in the Lynde House Parlor.
Valentine's Day – A Cake and Tea Party was held at the Visitor Centre with about 20 volunteers participating.
High School Volunteers: Three students from J. Clark Richardson Collegiate in Ajax were welcomed as volunteers with approximately 30 hours each of volunteer hours. They have been tasked to work with Monica Effenberger on helping with the ongoing cataloguing work on Saturdays.
Grant Applications: An OTF Seed Grant application was submitted ahead of the February 22nd deadline by Trina Astor-Stewart.
March 2017
Lynde House decorated for Spring…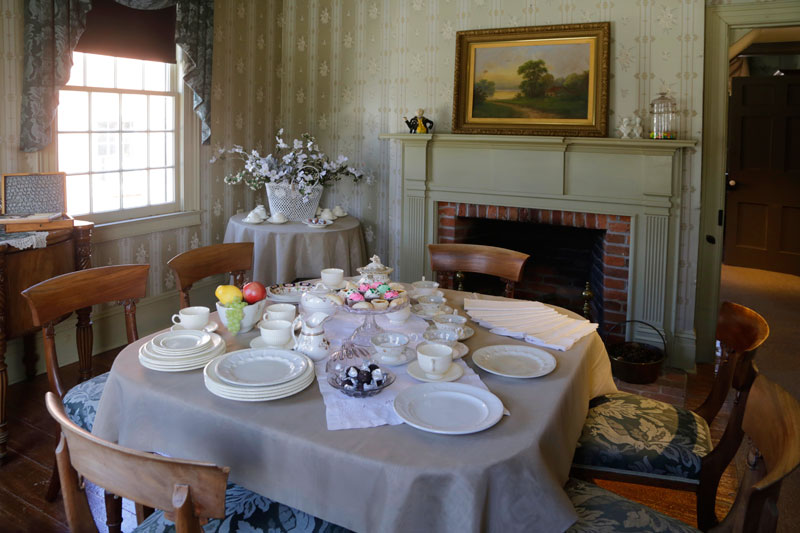 The Costume Project: Costumes were on everyone's mind this month as events, in particular Canada 150 Celebration Planning,  in which costumed volunteers interact with tour goers. Themes representing both the Lynde and Warren family histories, their time periods and the period leading up to Confederation in 1867 are important, there is a lot of research needed. Do we go for the Regency Period, the Romantic Period or the Victorian Period… 'that is the question' -?  Although costume funds have been approved through Pickering Charities Delta Bingo, there are a great deal of logistics required to be worked out.
Whitby Mayor, Don Mitchell, hosted a reception for the official visit of Honourable Elizabeth Dowdeswell, Lieutenant Governor of Ontario on March 2nd which David Chambers and Monica Lawlor attended representing WHS.
At the passing of former school trustee, Mr. Goodwin, a Global TV reporter asked for an impromptu on camera interview inside Lynde House. Monica Effenberger and Trina Astor-Stewart were able to act quickly to provide historic material and do the interview.
Community Outreach:  Denise Lagundzin, one of our newest board members attended the Whitby Chamber AGM on behalf of the museum.
The Old Fashioned General Store & Post Office Project:
The Board asks that Trina Astor-Stewart, Executive Director find ways to rearrange furnishings and storage areas in both Lynde House and Visitor Centre to organize for better flow, protection of artifacts, storage and usability. Since moving artifacts into the buildings there has been little time other than programming. Measurements were taken by Monica Effenberger and Trina to make the Visitor Centre  reminiscent of the John Borlase Warren's (son-in-law of Jabez Lynde) Post Office which he opened in Whitby in 1824.  Again more research and diagrams were done to allow as much open floorspace as possible for class room visits and presentations as well as other functions and use as a store to sell vintage-style items to raise funds.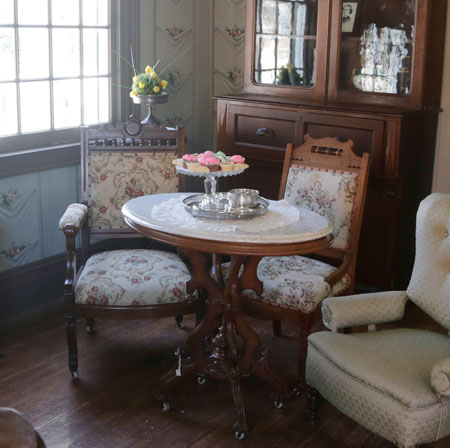 The Catalogue Project:
Monica Effenberger,  Curator reports, "The Music Room and Dining Room are well on their way to being recorded. The three high school students have been working on the downstairs hallway, little girls room and the parents room in the house. Joany Burtinsky is working on matching up photographs taken as a quick record with artifacts in the basement. The high school students have taken photos using the tablet as they go along. Audrey Atchinson has also started to take photos with the tablet as she goes along in the kitchen. Currently, I have entered many of the artifacts in the dining room, music room, kitchen, parlour, downstairs hallway, little girls room, parents room, both basements and the main floor of the visitors centre into the Past Perfect data base. That being said all rooms in one way or another still have artifacts that need to be catalogued and/or photographed. I have started to go through the document on the Cullen gardens collection to properly record them as we go along. All this being said there is still a lot of work to be done."
Communications:
Most of the communications used to arrange events and meetings as well as scheduling seem to come in through emails and are coordinated by Trina Astor-Stewart. There are enquiries by phone as well, which Monica Effenberger looks after as there are people walking into the Visitor Centre every day as it is also used as a meeting place where volunteers can come and enjoy each others company and talk about the museum plans. In February and March 144 people were given tours.
 April 2017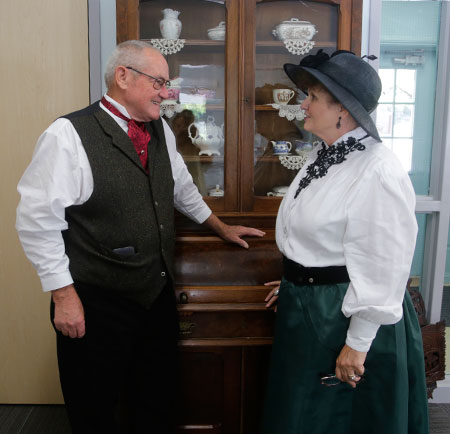 April 5th – New Acquisition, an Antique Secretary c. 1700's was delivered to the Visitor Centre as part of the new décor for the Old Fashioned General Store and Post Office. Photograph on the left was taken later and shows Ed Campbell and Denise Lagundzin talking about plans for the museum.
April 5th, – Durham Farm Connection event was attended by Monica Lawlor and Trina Astor-Stewart to research ideas for summer camp days at the museum.
April 12 – Spring Displays were created representing a Spring Tea motif in the dining room, parlor and music room by Trina Astor-Stewart and Monica Effenberger. One of the bedrooms upstairs was changed into a display room, and artifacts previously in storage are now artfully arranged in cabinets with more displays being planned.  An antique square piano base was brought up from storage in the basement in order to hold the Huron-Wendat Picard First Nations model display. This is a model of a First Nations village dig that was found near where the 407 hwy. is now. Next to it is the never before shown arrowhead display. This new display in the upstairs hallway at Lynde House was created in response to a need to display First Nations artifacts for school visits. Three men were directed by Trina Astor-Stewart together with Monica Effenberger during a six hour period to move and re-organize large displays in preparation for spring events.
April 13 – A costumed presentation was given at the museum – Historica by Lianne Harris Racioppo who is a social studies resource specialist with the Toronto Board of Education (TDSB). Lianne is known for her entertaining and educational programs for all ages and has been well received by participants.
April 19th and 20th Three Lynde Shores PS classrooms visit with a curriculum based program created by, museum volunteer, Lauri Geuzebroek, Program Facilitator, Durham District School Board. Many thanks for this amazing program Lauri! The program was delivered by Monica Effenberger assisted by volunteers.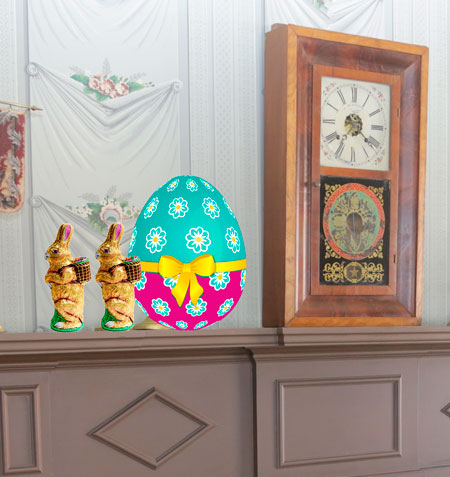 April 22nd, Easter Saturday an Egg Hunt was carried out in the museum by Monica Effenberger, Curator; assisted by a team of volunteers lead by Denise Lagundzin, Board Member. Children participating marked the location of hidden Easter Eggs on composite photographs of the rooms created by Trina Astor-Stewart and were then given real Easter Eggs upon returning to the Visitor Centre. Parents were able to enjoy the displays while children hunted excitedly for the hidden eggs.
April 24th, – Pathfinder Girls Evening Tour: Trina Astor-Stewart gave a Powerpoint presentation she had prepared especially for a group of Pathfinder girls on Citizenship, and how the Lynde family related to Confederation. The presentation was followed by a tour of Lynde House. The presentation has been adapted for use at other group presentations to promote the stories and history of the Lynde Family in relation to other people of the era.
Thank you to Barb Haug, volunteer, and Denise Lagundzin, board member, who were on hand to help with the evening which was attended by about 20 girls, leaders and parents. A 'Slideshare' account was set up and you can view the presentation at https://www.slideshare.net/lyndehouse
 Costumes: Over 20 Costumes were ordered early in April after meetings to ascertain who would be volunteering to participate as costumed volunteers in the future. Funding was provided by Delta Bingo. April 25th Costume Fittings at the Museum began with alterations such as hemming skirts, pants etc. organizing for ease of use, and pressing.  The last costume was ready the night before Doors Open! May 5th.
April 27th – Peter Hoppe of Fundamentals, Breck Stewart, secretary/treasurer and Trina Astor-Stewart, executive director; met in Jordan Ontario to tour the Jordan Museum and Heritage Gift Shop as research for the Strategic Plan which Peter is preparing for Lynde House Museum. The Heritage Gift Shop is separate from the museum and exists solely to raise funds in support of the museum which is mostly funded by the Town of Jordan. Some of the ideas can be useful in fundraising through the Old Fashioned General Store concept for the Visitor Centre.
April 28th – Lynde House Construction-Restorations – A meeting was held with the Town and construction trades people and staff in order to prepare for the outside restoration and painting of Lynde House which will be ongoing from May 1st until July 21st. The Town will work with us on events planned for Canada Day 150 etc. the renovations will be amazing and help Lynde House be around for a long time to come. We appreciate all the Town of Whitby is doing to restore and keep Lynde House, the Visitor Centre and grounds in good condition.
Tuesday, May 2nd at 7:30 PM – Trina Astor-Stewart gave a presentation she had prepared to a Durham Region Genealogy Meeting. This was about the history of Lynde House, and of those who lived in it, along with its importance in political events, especially during the War of 1812 with the genealogy of members of the Lynde Family. The meeting was recorded and can be viewed at https://www.youtube.com/watch?v=9vlg9y30kRU&t=1069s 
May 4th Durham Regional Heritage Fair was held at Durham District School Board's Education Centre and a presentation was prepared by Trina Astor-Stewart in cooperation with Roderick Angevaare and Linda Calder, board members and retired teachers. The presentation was delivered by Roderick and Linda assisted by Monica Effenberger.
May 5th 10:am, Designs by –2Co – Michelle Peer Design for the Old Fashioned General Store and Post Office was presented to Trina Astor-Stewart who had been heading the project. Minor changes were suggested and the plan was presented to the board and received approval.
May 5th, 2:00pm – Jane's Walking Tour Presentation was held at the museum. The tour was held inside the Visitor Centre using one of the Powerpoint presentations previously prepared due to the inclement weather.
May 5th, 6:00pm -Monica Effenberger, Assistant Curator and Trina Astor-Stewart attended the Doors Open Soiree representing Lynde House Museum for a couple of hours before returning to the museum to get the final touches ready for the next day …like some last minute hemming and pressing of costumes.
May 6th, Doors Open, a Town of Whitby wide event was held with
Lynde House Museum also on the Tour.

The photograph above shows volunteers in interpretive roles… pouring tea in the Dining Room. LtoR: Trina Astor-Stewart, Alice Birch, Monica Lawlor, Linda Calder, Monica Effenberger and Barb Haug.
Visitors seemed to be fascinated with the costumed docents and the level of interactivity offered. Of course it was an imaginary tea… it was amazing to see everyone get into the act and enjoy pretending. People started arriving early for Doors Open and tour goers were still having fun long after closing. One man remarked on entering, "This is just like coming home, I love it." Another man hurriedly coming  in, said, "Only here to see the piano, real quick." He stayed two hours …thoroughly enjoying the whole time.
Doors Open is one of the events where many visitors come through Lynde House Museum and 2017 was the first time volunteers engaged in presenting Interpretive Tours. Stories change… every time you visit you will find that it is interestingly different.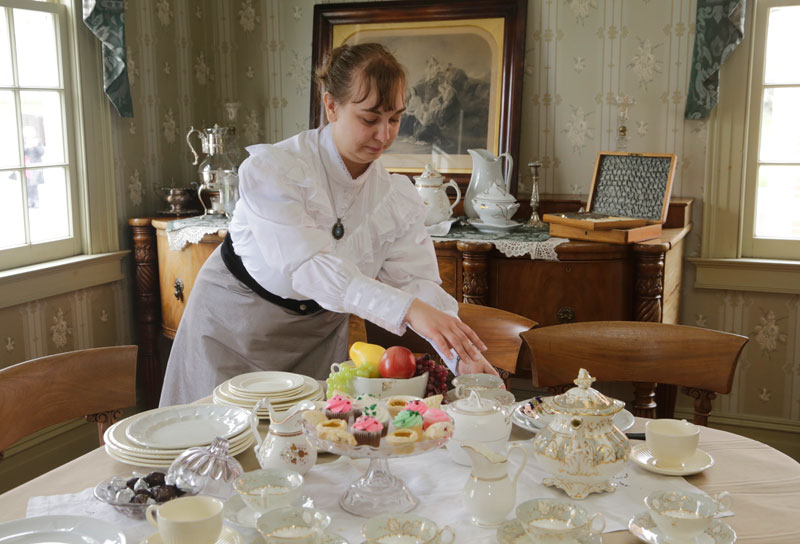 Monica Effenberger, Curator takes a few minutes to make some last minute adjustments to the table setting. Monica often plays the role of Clarissa Lynde Warren a daughter of the Lynde's who was married in the house and according to Sybil C. Lynde Stirling's book, 'To A House in Whitby' -"Floated down the stairs," to be married in the Parlor.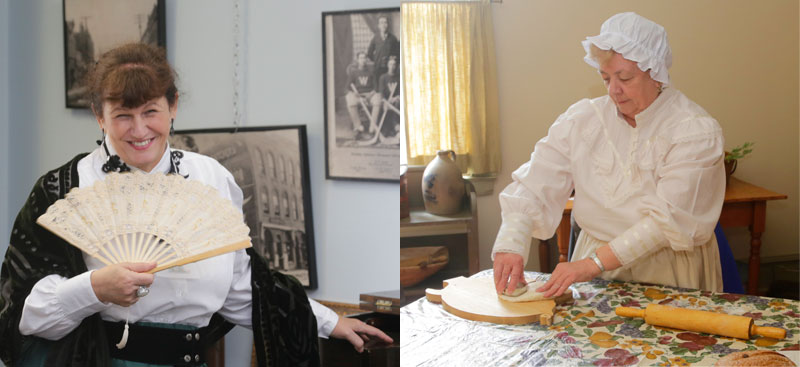 Above, Denise Lagundzin (left) shows visitors through the Visitor Centre and Linda Calder, (right) demonstrates cookie making in the Lynde House kitchen.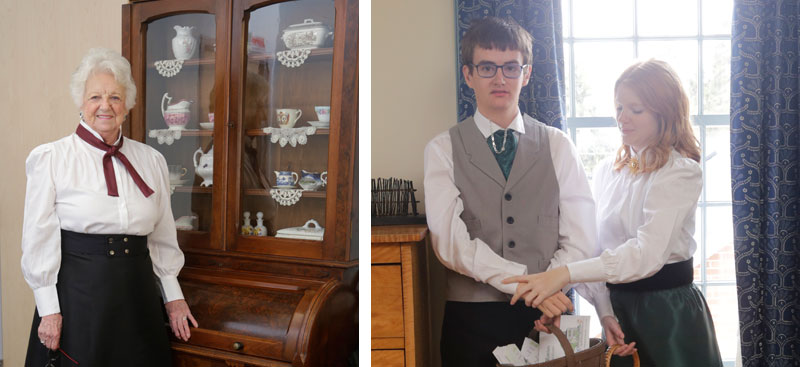 Above: Gunda Anderson (left) shows the china display in the Antique Secretary and (right) Joel McLellan and Kristina Bolen hand out bookmarks in the upstairs display room.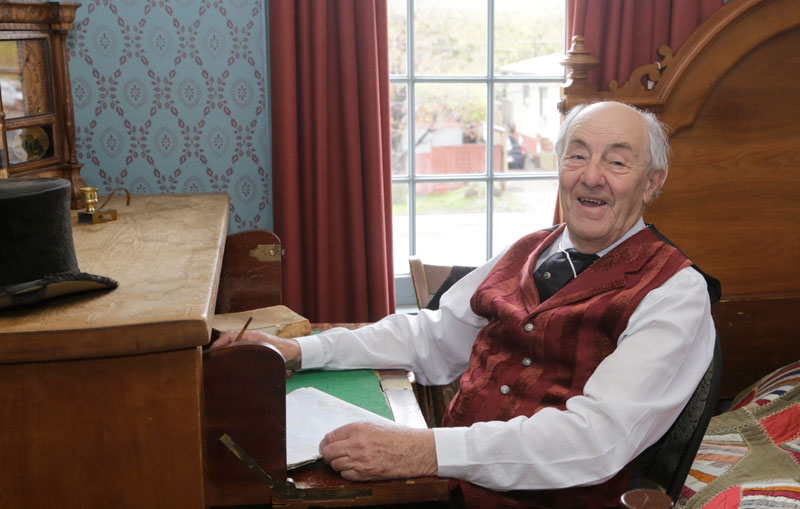 Al Mawby, above, plays the role of Jabez Lynde in the upstairs Master Bedroom – 'keeping the accounts'…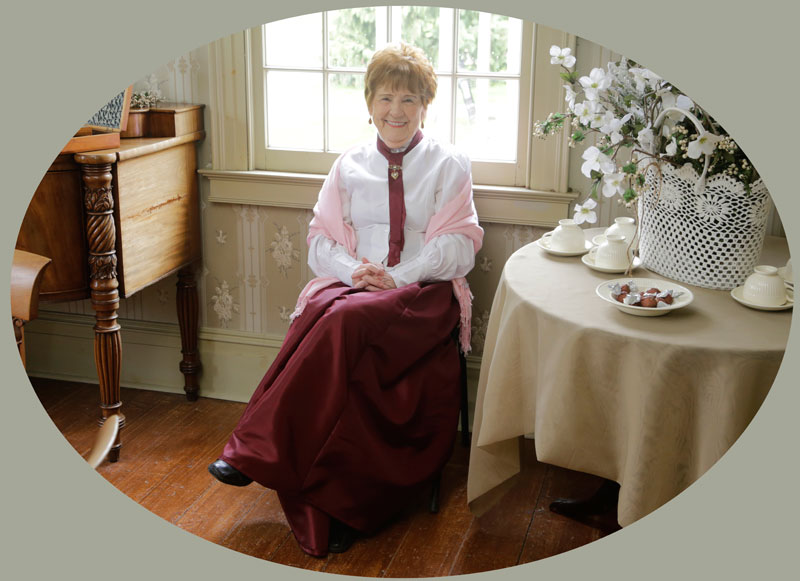 Barb Haug, above makes sure guests feel welcomed in the Dining Room. Chocolates on the table… For some special events,  visitors are offered a 'Tea and a Tour'.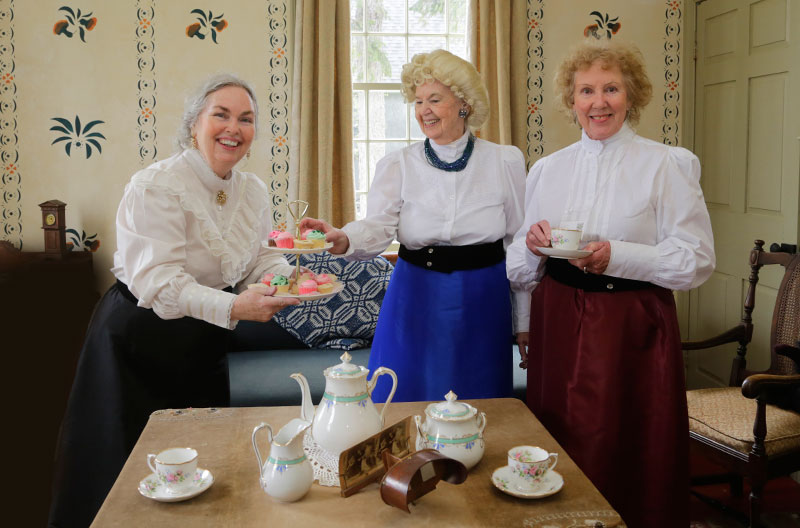 Trina Astor-Stewart, Executive Director, who often plays the role of Louisa Lynde Warren- offers tea and goodies to Monica Lawlor, who plays Clarissa Lynde and also to Mavis Mawby who plays the role of the a neighbour. Notice the early 3-D photo viewer that entertained many a visitor on the table in front.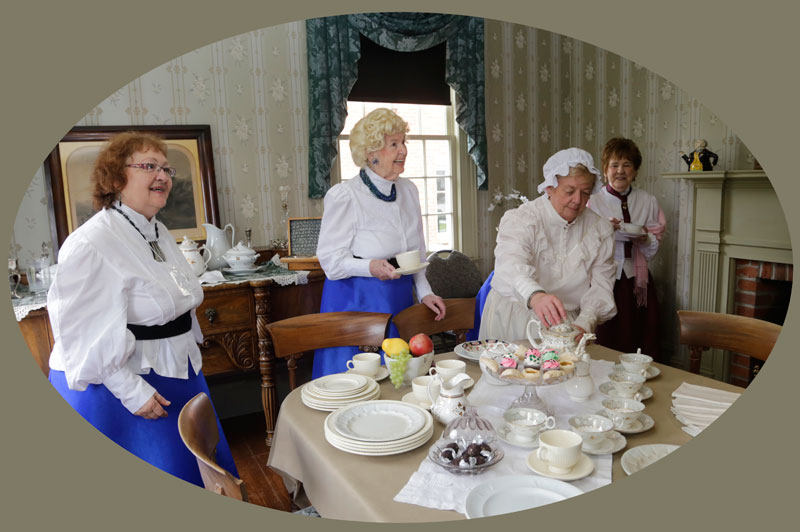 Above: Alice Birch, Monica Lawlor, Linda Calder and Barb Haug greet visitors to Lynde House Museum with an interpretive 'Tea' in the Dining Room.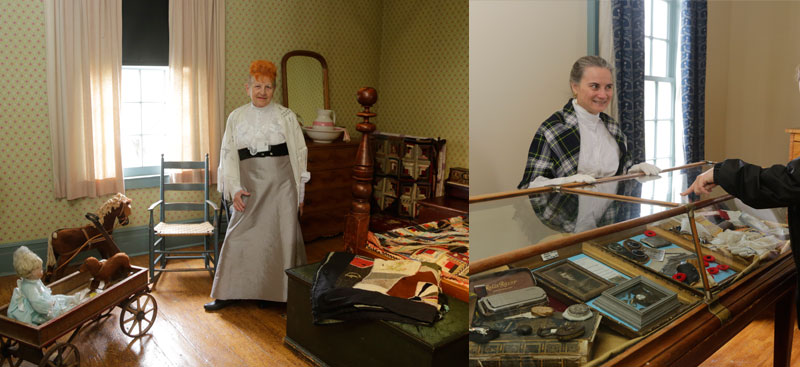 Lynde House Museum consists of eight rooms, four downstairs and four upstairs. Mary Prettie-Elliott likes to show the toys in one of the upstairs bedrooms (left) and Joany Burtinsky (right) answers questions about artifacts in the display room upstaris.
May 11, The Society was represented at the Annual Mayor's Luncheon by David Chambers, President and Monica Lawlor, Vice President.
May 16, Ontario trillium Foundation (OTF) workshop in Toronto was attended by Trina Astor-Stewart.
YouTube Channel
A YouTube channel was set up for Lynde House Museum with a few starter videos. We need to find a volunteer who is good at editing videos…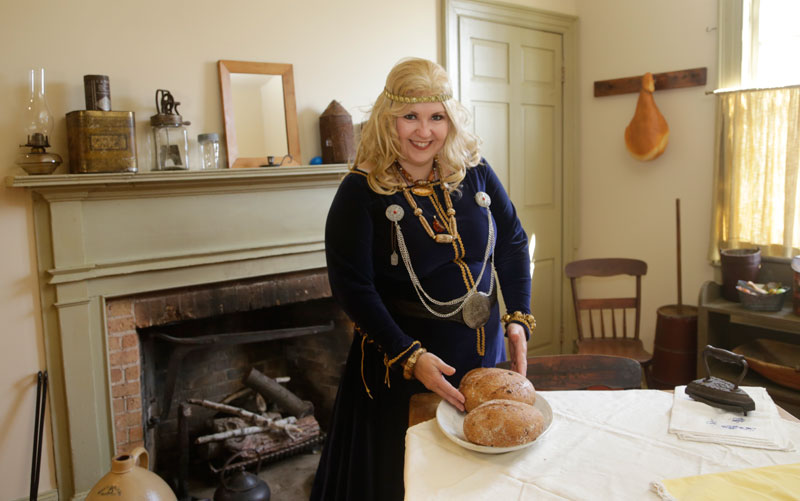 May 18th, An Historica by Lianne Presentation in Costume Event -Mother's Day Theme – Tea and Cake at the Museum was held. In the photograph above, Lianne Harris demonstrates in the kitchen at Lynde House Museum.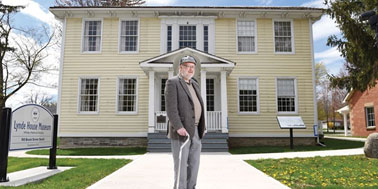 Brian Winter in front of Lynde House Museum – photograph by: Ryan Pfeiffer / Metroland
May 24th, A Whitby This Week Article by Parvaneh Pessian appeared in print and online – "Whitby Historical Society celebrates 50th anniversary.
Retired town archivist Brian Winter reflects on group's past, from its modest roots in 1967 to 'rebirth' in 2015."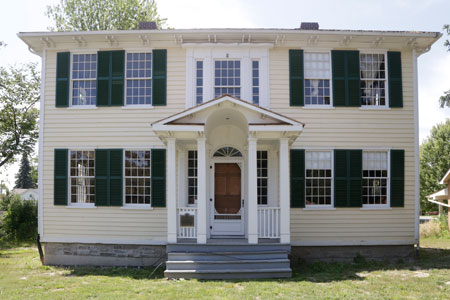 You will notice in the photograph of Lynde House in which Brian Winer is shown -that restoration work had started. The green shutters had been removed for restoration. -Also note the new plaque which is located in front right corner of the house behind where Brian Winter is standing and the new walkway.
The chimneys showing on the image taken in 2015 were removed when the roof was replaced, these were not the original chimneys. Georgian style homes originally had prominent chimneys. Also, since there are 8 fireplaces in the house, chimneys would have been an original feature of the house.
May 30th –Monica Effenberger, was promoted to Curator. Monica and Trina Astor-Stewart, executive director constitute the Executive Team who manage Lynde House Museum on behalf of the Whitby Historical Society board of directors.  Volunteers step in to help with the programs. We have amazing volunteers!  We appreciate all they do, as without volunteers many events would not be able to happen. Several powerpoint presentations have been prepared by both Monica and Trina for various events. May 30th Monica gave a Powerpoint presentation she had prepared to Durham Health Services Group and again on May 31st a Seniors Armchair Tour at the Seniors Centre.
Community Engagement: In a short time since opening the museum in Nov. 2015 more and more visitors are coming to Lynde House Museum.  264 Visitors Toured the museum in April with over 460 visitors touring the museum in May. Approximately 40 Volunteers participated in museum activities and events.
Special Appreciation: We would be amis to not continually draw attention to our Anonymous Donor through the Durham Community Foundation. Expenses for operating Lynde House Museum come entirely through donations, grants and events.
June 2017
Strategic Planning: The Whitby Historical Society Board of Directors and Executive Team continue to provide pro-active vision, support and stewardship of Lynde House Museum. As the first half of 2017 draws to completion, our focus is on renewing vision and implementing strategic planning recomendations made by Peter Hoppe of Fundamentals.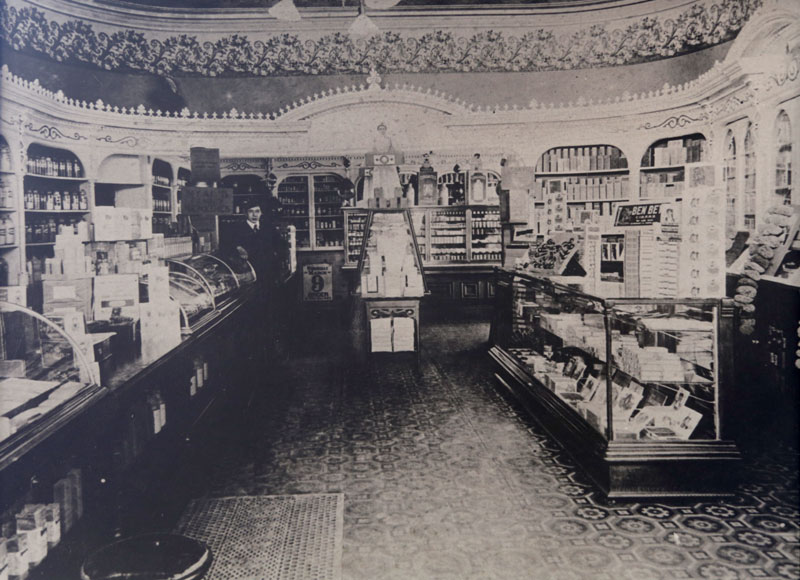 Photograph above is an interior view of Allin's Drug Store, c.1904. The man in the photograph is presumed to be Arthur Allin, who operated the store from 1896 to 1945. The building in which the drugstore was located was called Gerrie's Block and was built for James H. Gerrie in 1873  and was located at 100 Dundas Street West, north west corner of Dundas and Brock Streets in Whitby, Ontario Canada.
The ornate white/ivory cabinets seen in Allin's Drug store were used as inspiration for the cabinetry in the present day Warren General Store  adjacent to Lynde House Museum –since the light cream colour matches the exterior of Lynde House (seen through the windows) and creates a light neutral backdrop for the art works and other goods for sale.
John Borlase Warren was the first Whitby Postmaster, he and his brother, William Warren Sr., immigrants from Ireland, opened the first post office in the area in 1824 their 'Warren' General Store at Hamars Corners. This occured prior to the first post office in Toronto in 1833.
Lynde House Museum & Warren General Store are an investment in the culture of our community.  Lynde House is considerably less grand than other homes and buildings in Whitby built later ,such as Trafalgar Castle, however, it was once believed to be "the nicest house located between Toronto and Kingston" it represents the cultural heart of this area. Lynde House is  original settler's hearth and home! As a pivotal anchor point in the Town of Whitby we feel that with the proper management over the next few years, the stories yet almost untold, have a mystique that rival those of Laura Secord and the stories by Lucy Maud Montgomery.
By further developing along these lines we can spark initiative, collaborate with other entities and further cultural development in the Durham Region. WHS seeks to work with the,   BIA (Whitby Business Improvement Area)   the Whitby Chamber of Commerce,  WHS has been a member of the  Whitby Chamber for a number of years. We also seek to work with other community organizations.
Tourism: Lynde House Museum is expected to add incrementally to the tourism draw, and bring added tourist dollars to the community. Since opening Lynde House Museum events have significantly increased. We hope to increase this through interpretive and theatrical style tours and the Warren General Store which will increase traffic and make known that the museum is not only opened for tours but shopping as well. Local artists will be contacted to bring works into the museum for sale to help raise funds. Many museums now have gift shops, few actually support local artists and artisans works.
As we head into Fall 2017 we are happy with our progress. Much still has to be done, chief among them is fundraising for operations so that we can achieve our vision, mandate and desires for the museum and fulfil expectations of our stakeholders and most importantly our extended community.
The Whitby Historical Society three pillars are: To inspire with stories that bring the museum to life. To reach far and wide through engagement. To teach and practice sustainability (as ingenuity of our forefathers and as the practice of sustainability in life endeavor). Promotes public interest in maintaining a living museum as an experiential interpretation of history; a cultural anchor in the community at large as a microcosm of Southern Ontario. Activities and programming for the purposes of empowering citizens through life long learning about heritage. We serve people from all walks of life.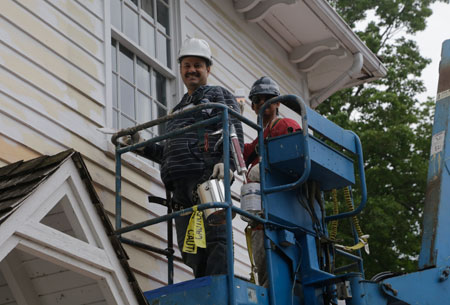 Restoration Work Continues at Lynde House Museum: Special thanks to the Town of Whitby.
Two men from Terco Construction work on the exterior, fixing rotted wood, priming and painting. Thank you Town of Whitby!
June 3rd – All Saints Church Tea, presentation given by Monica Effenberger, Curator.
June 14th – Board Meeting at the museum.
June 15, Brian Winter visited the museum to share stories from 1831 and copies of two letters from, first Postmaster,  John Borlase Warren. Brian commented that re-naming the Visitor Centre to Warren General Store gave the building more ties to history.
June 15th- Seniors' Centre Open House: David Chambers and Monica Lawlor manned this event re: names for pioneer doll, email addresses, PR outreach and volunteer recruitment.
Special thanks go to volunteer Ed Campbell who has made shelves to organize the housekeeping cabinet as well as various repairs to the walls in readiness for the new cabinetry etc. such as storage for costumes and display, and a table-top for demonstrations in the Lynde House kitchen.
June 23, Strengthening Community Partnerships A Showcase of Partnership Opportunities by Centennial College was attended by Curator, Monica Effenberger.
Strategic Plan work coordinated between Peter Hoppe and Trina Astor-Stewart is completed-
Three areas of primary focus for museum:
• Educational Programming and Delivery
• Warren General Store with artists and cottage industry items for sale on consignment
• Theatrical and Interpretive Tours model for the museum
-Fundraising initiatives and programming through all of the above
Fundraising is an important part of the museum in order to continue to pay for operations. As well as providing special events, the museum also gives several volunteers with special needs a place to interact with others, engage in meaningful activities and participate in volunteer activities with appropriate supervision. Please donate generously.
July 2017
Canada 150 – Celebrations at Lynde House Museum!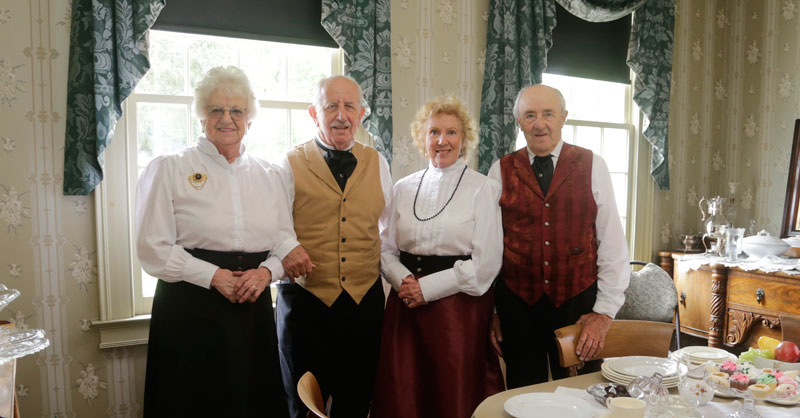 Above LtoR: Gunda Anderson, David Chambers, President, Mavis and Al Mawby chat in the Dining Room at Lynde House before welcoming visitors through the various rooms.
July 1st Canada Day 150   – 19 Volunteers Participated in Canada Day Opening Activities and 120 people visited the museum for the following activities. Lynde House is 205 years old this year! The Exectutive Team planned numerous activities in both buildings as well as outside.
 Tours through Lynde House Museum with costumed volunteers in each room.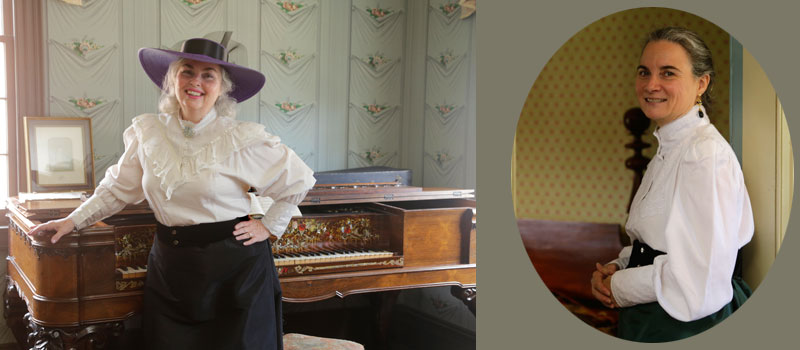 Trina Astor-Stewart (left) welcomes visitors on Canada Day to the Music Room in Lynde House showcasing the one of a kind Joseph Rainer Piano. Joany Burtinsky ( right) leads visitors through the upstairs rooms – The Master Bedroom, Children's Room, Young Girl's Room and the Display Room where other volunteers demonstrated parts of the stories.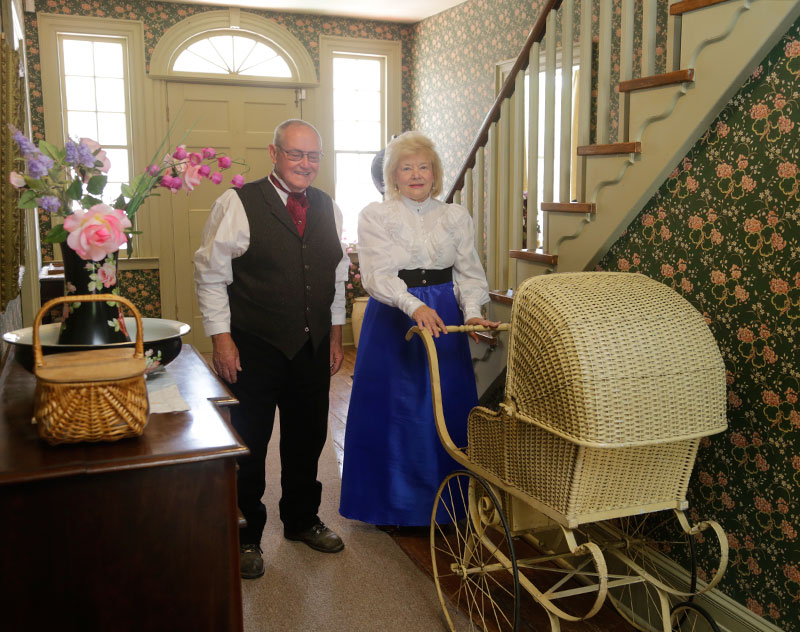 'Ready to take the baby out for a stroll'    …Volunteers, Ed Campbell and Carolyn Johnson pose in the downstairs hallway at Lynde House Museum with the Pram as part of the interpretive story that were being presented on Canada Day…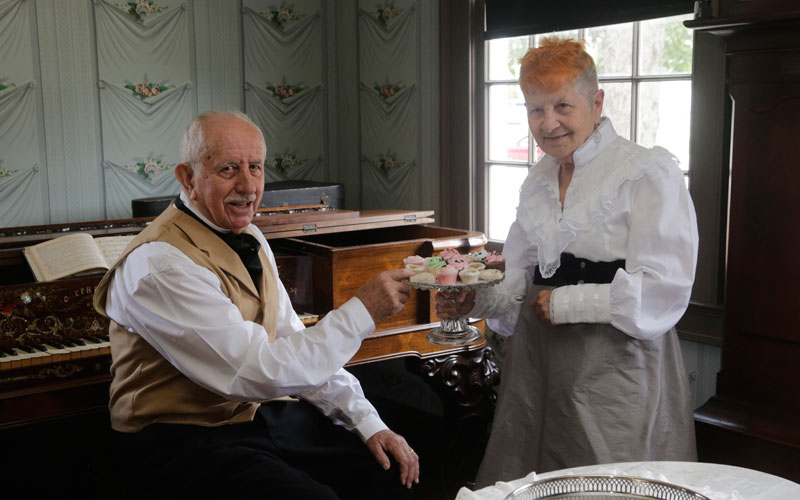 David Chambers and Mary Prettie-Elliott contributed to the afternoon program in the Music Room.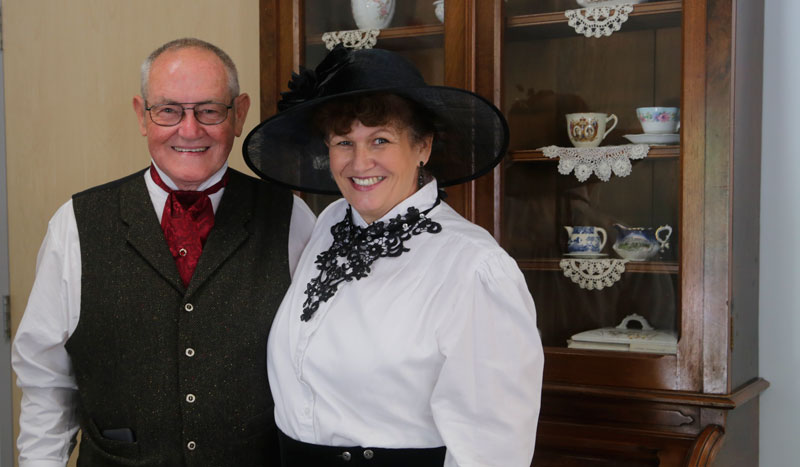 Ed Campbell and Denise Lagundzin lead visitors through the Warren General Store where two authors were present talking about their books, below.
Authors, Brian Winter and Angie Littlefield have book signing at Warren General Store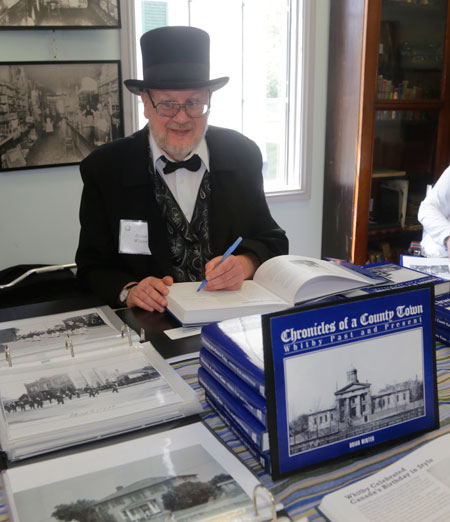 Former Whitby Archivist and Genealogist, Brian Winter, was at the museum to sign copies of his book. 'Chronicles of a County Town Whitby Past and Present'.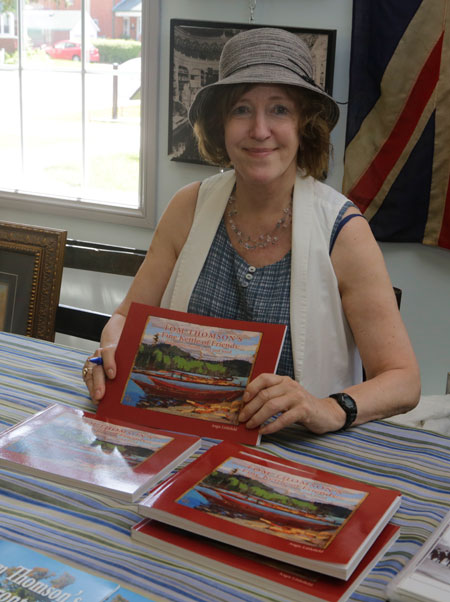 Angie Littlefield – Author, was on hand to sign copies of her book. Tom Thomson's Fine Kettle of Friends
All the while the Canada Day festivities were taking place, some baby birds whose mother had made a nest at the back door, chirped away undisturbed by visitors. Truly Lynde House is a home… even birds can feel the good vibes here. The birds took flight a week later.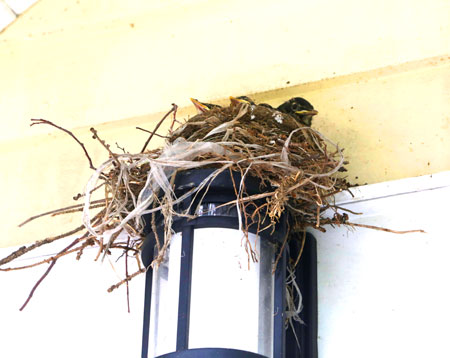 The heart's home is found
'Neath the eaves of dwellings where once
Settlers lives did so happily abound,
That even their song-filled moments might
Through ages still provide
A dwelling to delight…
And such is found, three fledglings
Ready to take flight.
Lynde House a 'nest' still nurturing
Birds… undisturbed tho' travellers through
Its rooms on Canada's 150th traipsed.
Once a home, now museum …a haven grew!
by: Trina Astor-Stewart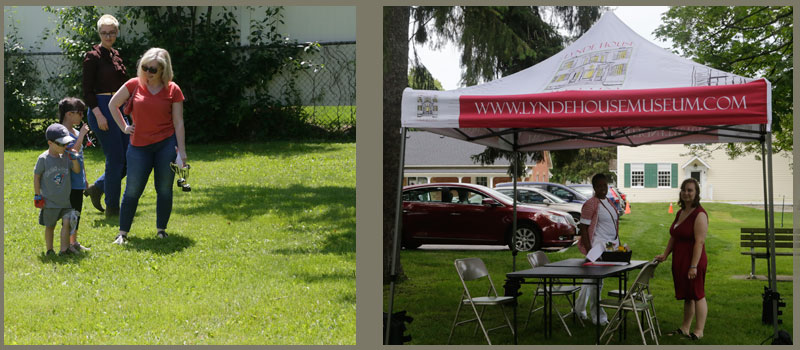 Outside on the park grounds children enjoyed old fashioned games such as potato sack races, egg races and three legged races. Children and parents also enjoyed the crafts organized by Monica Effenberger, Curator and her volunteer team.
Renovations were also going on outside Lynde House Museum on Canada Day 150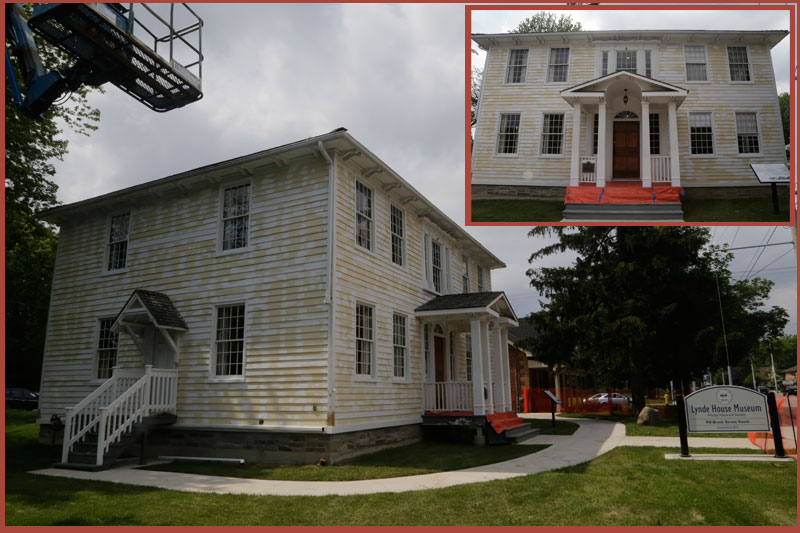 The front steps will also be restored with railings to make the entrance safer and more accessible.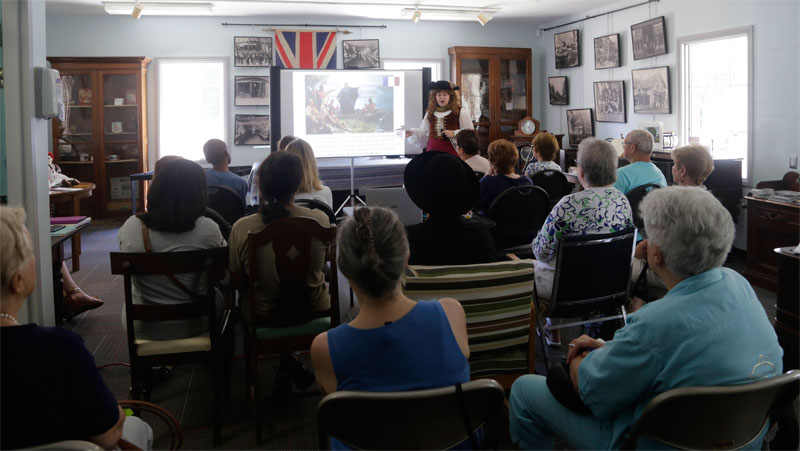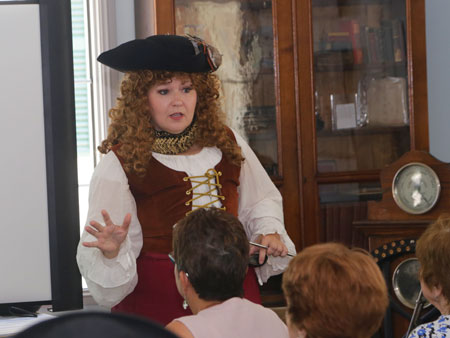 July 4th – Rogues & Rebels – How Canada Began – A Costumed Presentation with 'Historica' by Lianne  …in honor of Canada's 150th birthday! Lianne Harris Racioppo is a social studies resource specialist with the Toronto Board of Education (TDSB). -This was one of the last events prior to the furniture arrival which would turn the Visitor Centre into the Warren General Store. You can notice the difference between this and subsequent photographs.
July 5th – Monica Effenberger, Curator and Trina Astor-Stewart, Executive Director directed a major re-arrangement of furniture and artifacts, many of which were in boxes previously not unpacked.
This to better organize and store artifacts safely and to make room for the new furniture that would arrive for the Warren General Store outfitting.
'Teatime Theatrics' Interpretive Workshop
July 6, 9:00am to noon – 17 Costumed Volunteers participated in a photoshoot and video enactment as fun, practice and material for future marketing with 'Teatime Theatrics' by: Trina Astor-Stewart. 

Volunteers pose in the Music Room: LtR – Al Mawby, Jennifer Dunn (at piano) Halima Bacchus, Mavis Mawby, Monica Lawlor, Gunda Anderson (seated) Joany Burtinsky and Barb Haug.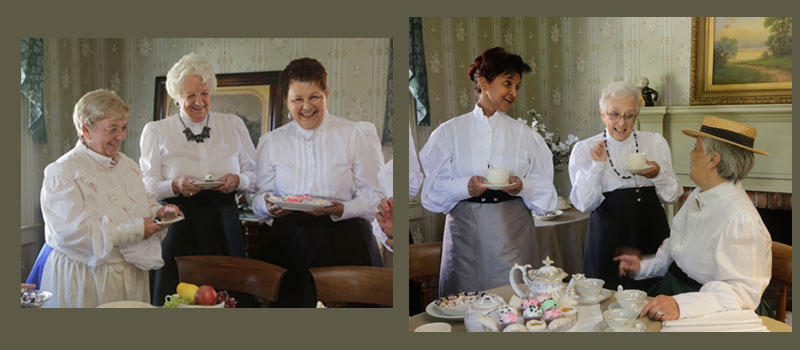 The above volunteers participated in the Photo-Shoot and Tea Time Theatrics Immersive – RtoL: Linda Calder, Gunda Anderson, Jennifer Dunn, Halima Bacchus, Barb Auchterlonie and Diane Carson.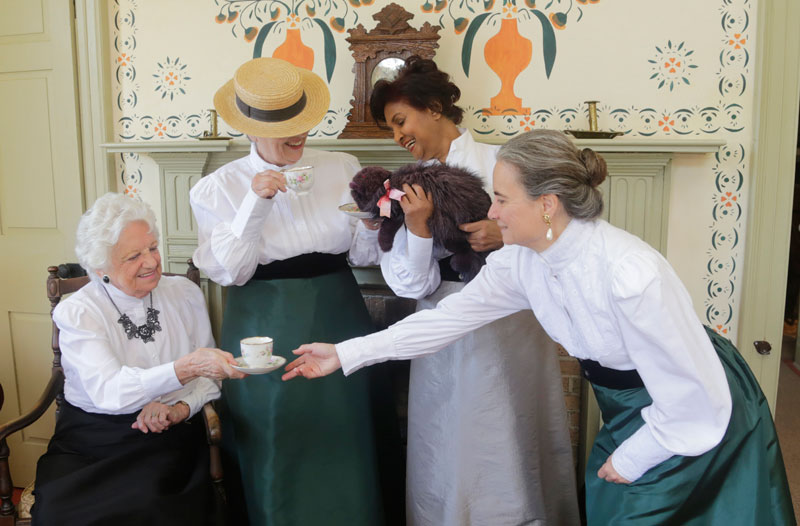 Teatime Theatrics was a lot of fun, volunteers got into the 'mood'  – Above LtR: Gunda Anderson, Diane Carson, Halima Bacchus, and Joany Burtinsky.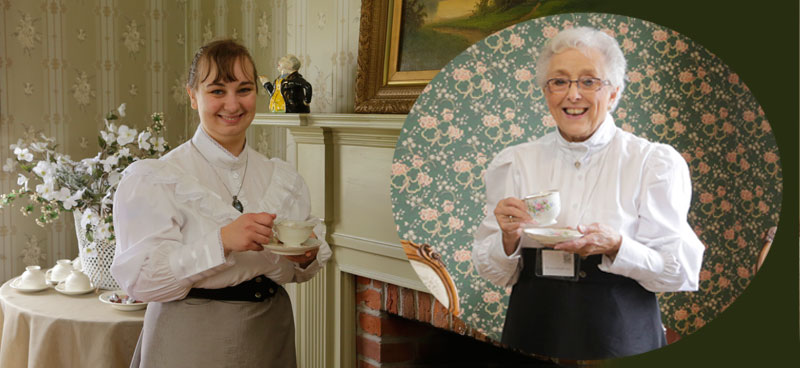 Monica Effenberger and Barb Auchterlonie participating in 'Teatime' Theatrics. Each volunteer has areas of the house they love best…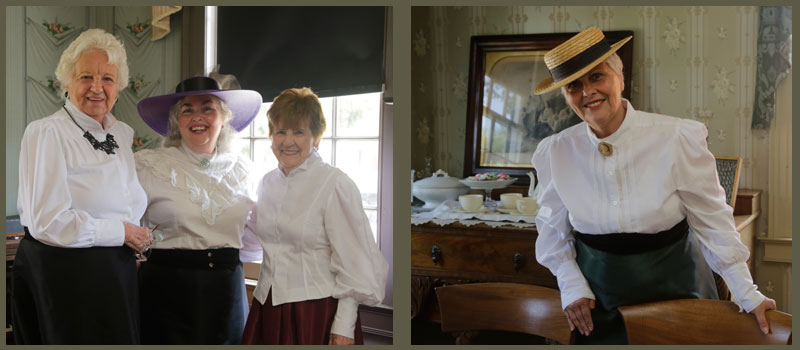 More Teatime Theatrics – Trina handed her camera to Monica Effenbergerger  …memories are made in moments.
LtR: Gunda Anderson, Trina Astor-Stewart, and  Barb Haug. On the right, Diane Carson – Volunteers make life-long friends at Lynde House Museum!

DAY 1: July 6th Afternoon – Theatre Training Workshop 
DAY 2: Friday, July 7th 'IN TIME Theatrical Performances: Afternoon and Evening Performances
DAY 3: Saturday, July 8th 'IN TIME' Theatrical Performances: Afternoon and Evening Performances
DAY 4: Sunday, July 9th, 1:00pm until 4:00pm – Special Theatre Workshop for Youth. 
About  IN TIME: A play with aspects particularly geared to stories relative to the Lynde family.
The year is 1837. William Lyon Mackenzie is assembling the militia for the Battle of Montgomery's tavern. However; the Loyalist Mr. Jabez Lynde (1773-1856); and the house maid, Mary, are hoping to stop the Battle. Both are hoping to give Dr. Rolf, – Mackenzie's right hand man, false information before he goes to a meeting with William Lyon Mackenzie, exaggerating the size of the Loyalist troops.
When guests arrive, everything at the house is was in chaos, and Mary, the maid, (played by Jasmine Bowen, Founder of Live History Shows) has her heart torn in two places. So many are divided in so many ways during the Rebellion of 1837. Will Mr. Lynde make it to the meeting and stop the Battle? Or will Mackenzie march from Montgomery's tavern? Join us and find out what happens… Just in Time! Participants have a short time to do something or time runs out.
This unique high stakes plot focused on the Lynde Family was presented only at Lynde House Museum. Below are images taken during the performances.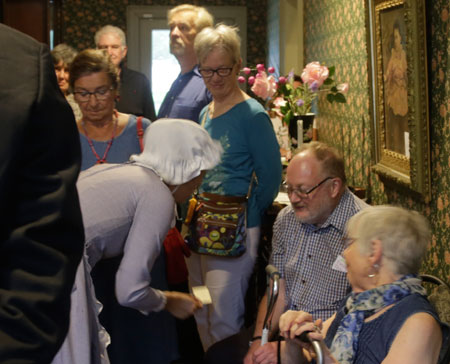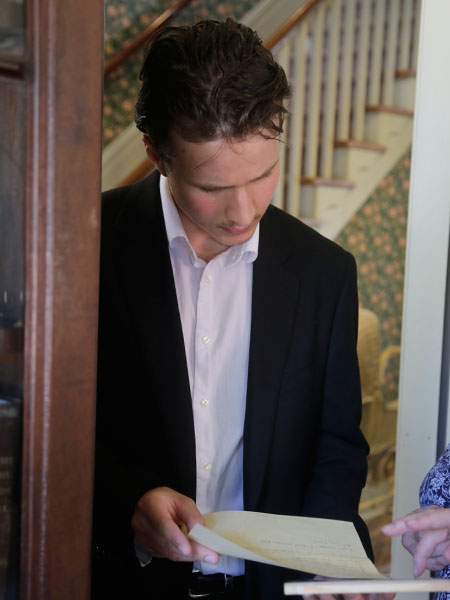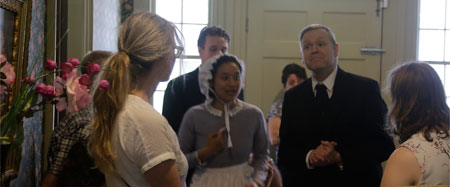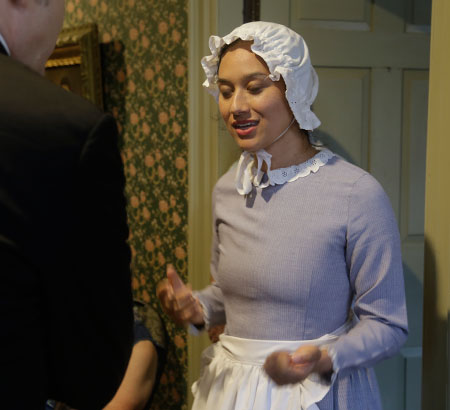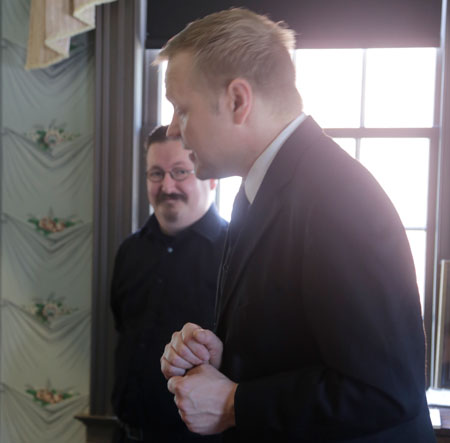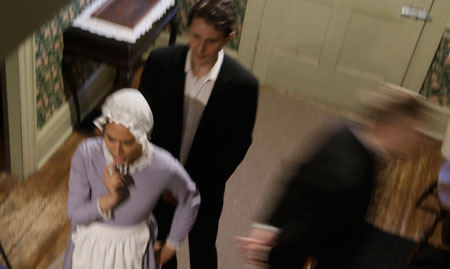 July 11, Many thanks to Ontario Trillium Foundation for awarding a Seed Grant Award to begin in September 2017 through September 2018. Grant name: Seniors to Students Heritage Project.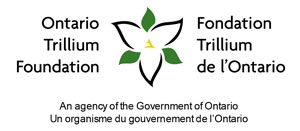 July 13, Warren General Store Cabinetry Delivered and set up.

The photograph above shows the cabinetry right after set up and ready to display items.
Cabinetry designed by: Michelle Peer of 2Co Design Build – and Built by: Woodwork Studios.
Many thanks for a great job! Designing and building the cabinetry to allow for many alternating uses in the space presented various problems. Electrical outlets had to be considered, a movable counter to enable even a few more inches of floor space during presentations and school visits, a place to hide a large screen monitor for presentations… allow for modern usage, fit the modern space and yet look 'aged' plus allow for continuous change in displays was a very tall order. An ingenious peg system was created for the wall space to hang art. Plus making sure that the vendors used were in Whitby too as we always want to support local people. You can view the cabinetry after display on the Warren General Store Page.
Louisa Lynde Warren… a new immersive tour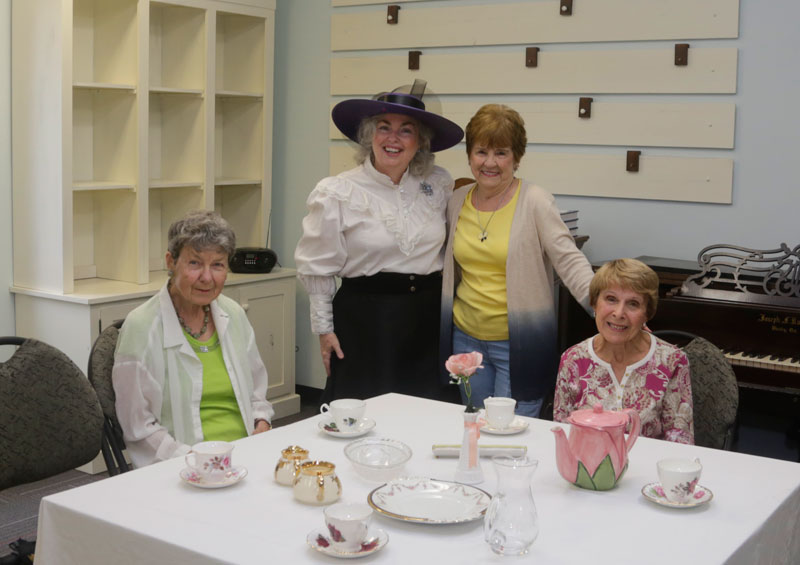 Almost as soon as the cabinetry was set up… new tours were arranged. Above photograph of a tour for friends of
Barb Haug (LtoR: Helen, Trina, Barb, Helen) who kindly concented to hearing the first-time script written and performed by Trina Astor-Stewart as Lynde character, Louisa Lynde Warren. A tour that can be given by one docent or more with talking points about the artifacts on display. This particular tour is a pretend birthday party for Louisa's mother Clarissa Lynde. Not too onerous, the script changes depending on the audience.
Project Planning:
Trina Astor-Stewart, Executive Director together with Monica Effenberger, Curator, have been working for a number of months on a System of Operations – Project Planning – Artifact Intake Forms, Tax Receipt Forms etc. and Facility Management Protocols Manual with a Daily Log for scheduling volunteers and in general a Coordinating Manual of Operations. Because reports to the Board and Stakeholders is important, this online software with printable access helps eliminate management silos, keep everyone informed and create 'after event' write-ups for reports etc. This was completed in time for Monica Effenberger's vacation for the first two weeks of August so that volunteers would have a manual to work with. 299 Visitors to the museum were recorded in July.
Continue to see what was planned on the next page – beginning in August.