Lynde House Museum
…events in review
Lynde House Museum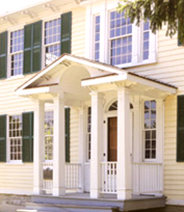 & Warren General Store
900 Brock Street South
Whitby, ON L1N 4L6
905 665 3131
Charitable Registration number -
Whitby Historical Society
BN 10820 6228 RR 0001
August through October – 2017 …at the Museum
Memories made in moments best told in pictures… Special thanks to all those involved who gave of their time and talents!
August, 2017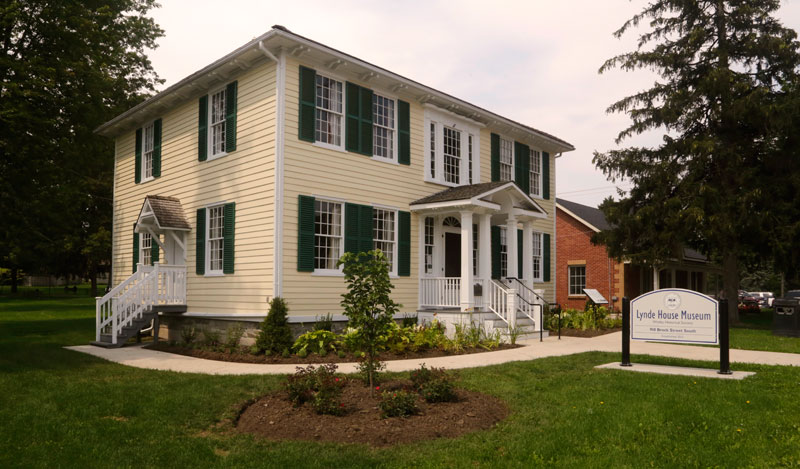 Renovations by the Town of Whitby on the exterior of Lynde House Museum were completed during the first few days of August. Lynde House has had extensive restoration and new paint on the exterior. The front steps have been re-done with substantial new railings for visitors to use. Vintage inspired perennial gardens including a roundel rose garden were planted.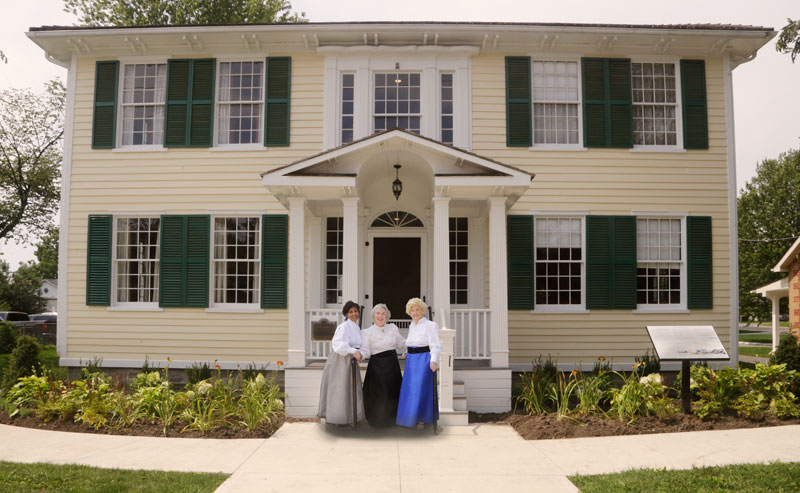 Volunteers pose in front of Lynde House Museum in costume: Left to Right: Halima Bacchus, Trina Astor-Stewart, Executive Director; Monica Lawlor, Vice President.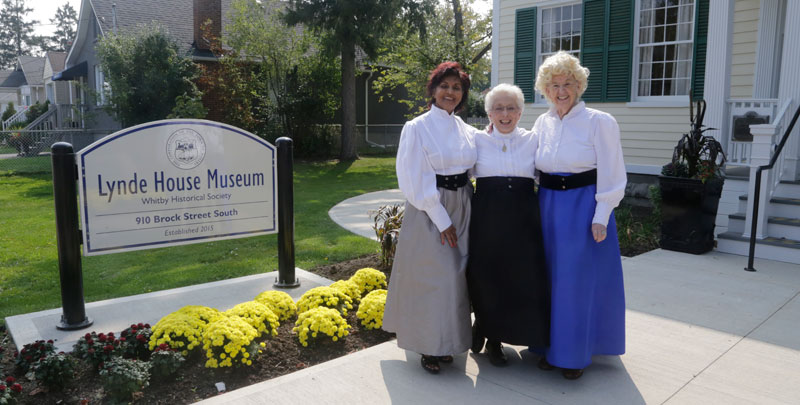 Three volunteers, Halima Bacchus, Barb Auchterlonie and Monica Lawlor take a break outside the front entrance enjoying the new garden flowers in full bloom.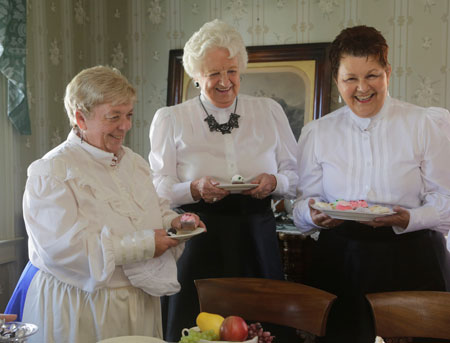 Linda Calder, Board Member; Gunda Anderson; and Jennifer Dunn pose in the dining room before giving an interpretive tour.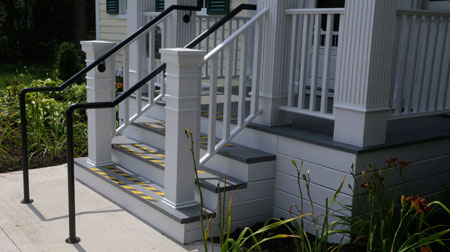 Close-up of the new front steps very safe hand railing at the front door of Lynde House Museum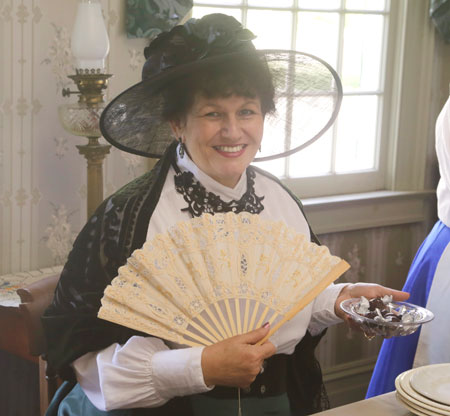 Vacation: Volunteers pitched in to fill shifts while Monica Effenberger, Curator, was on holidays during the first two weeks of August.
Many thanks to David Chambers, P; Monica Lawlor, VP; Linda Calder, BM; Denise Lagundzin,BM; Barb Auchterlonie, Mary Prettie-Elliott, Ed Campbell, Barb Haug, Joany Burtinski, Barb Auchterlonie, Jennifer Dunn, Audrey Atkinson, Gunda Anderson, Barb Haug and Trina Astor-Stewart, ED; who stepped in to fill shifts, open, close and give tours.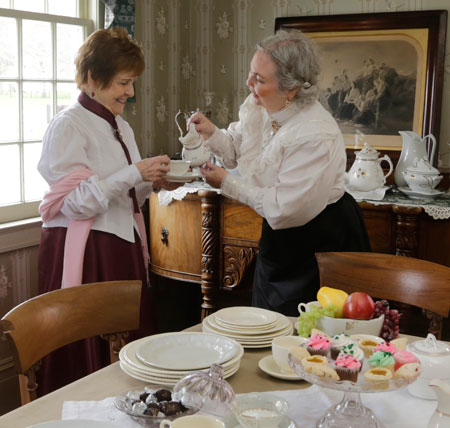 Many thanks to volunteer Barb Haug for hosting Trina  We had a lot of fun! Thank you also for cooking me those lovely gluten free meals.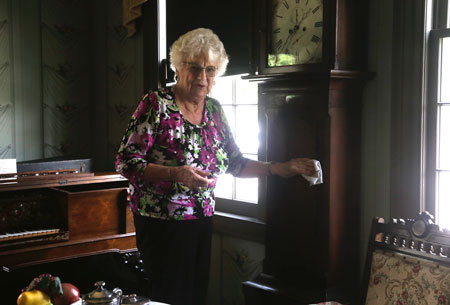 Let's not forget the Housekeeping Team: Between wearing a costume for interpretive tours, Gunda Anderson helps make sure Lynde House Museum is spotless. Many thanks to all the Housekeeping Team Members.
August 3rd, A group from Connecticut toured the museum  …people from all over Canada and the USA and as far away as Iceland and Europe have visited the museum. Although we encourage booking tours, many people just arrive and they are usually always accommodated by our curator, Monica Effenberger and any volunteers who happen to be on site at that time.
Thursday, August 10th – Trina Astor-Stewart and Linda Calder met with local Artists to discuss their bringing artworks to the museum for the Warren General Store on consignment. Artists brought samples of their work and discussed how they work with other galleries. It is hoped that the venture can be up and running in time for Christmas sales and a win-win for the local artists and the museum.
Saturday, August 19th, Monica Effenberger, Curator set up a table representing Lynde House Museum at the One World One Family Conference- Durham Genealogy Society.
Tuesday, August 29th – Visitors from Participation House were entertained with crafts and activities led by Monica Effenberger and assisted by volunteers, Ruth Edwards and Barb Auchterlonie. On August 31st, Visitors from Participation House came again to participate in volunteer work helping Trina and Monica get ready for that afternoon's tea and tour.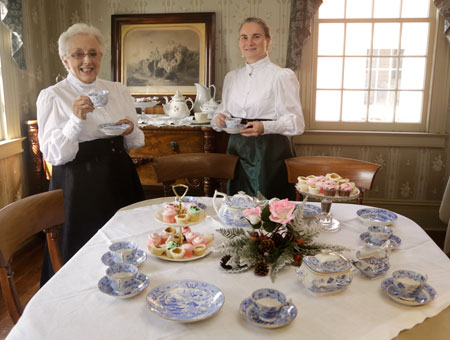 Barb Auchterlonie and Joany Burtinsky greet visitors in the dining room and show off the 1815 Blue Willow Tea Set
Tuesday, August 29, The museum had a special visit from Dr. Peter Kaellgren, Curator Emeritus of the Royal Ontario Museum in Toronto.
Dr. Kaellgren met with Trina Astor-Stewart, and Monica Effenberger as he donated several artifacts from his personal collection including an 1815 Mason Blue Willow tea set similar to what  Mrs. Clarissa Lynde might have used during the period.
Dr. Kaellgren also toured the museum displays and storage areas and offered many tips and insights which were most appreciated. The Tea Set was placed on display for the fall visitors to the museum to enjoy.
Thursday, August 31, 4.00pm – Six people from the Whitby Chamber of Commerce WCC Team were invited for a theatrical interpretive Museum Tour and Tea for the purpose of seeing how the Chamber could help the museum fundraise and/or market the museum events as well as discussing the possibility of the museum hosting a larger event for the Whitby Chamber members of the business community. It was an enjoyable event all around!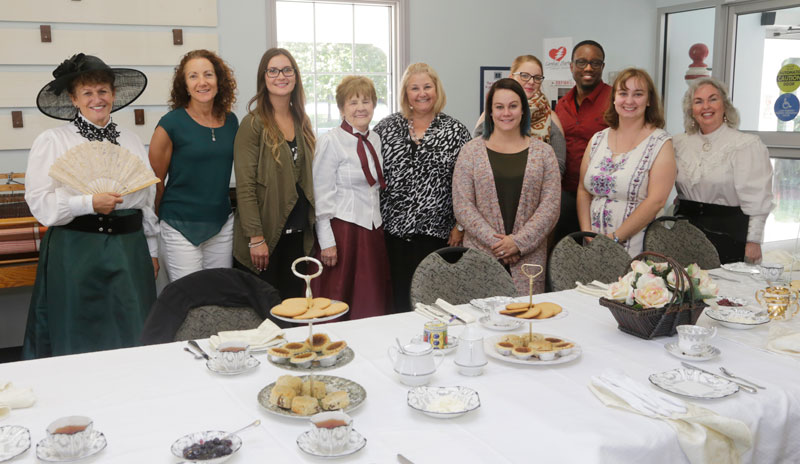 Special thanks to Natalie Prychitko, Greg Frankson, and Heather Bulman for organizing the visit and to museum team, Denise Lagundzin, Barb Haug, Monica Effenberger and Trina Astor-Stewart for putting on the tea and tour. The 1860's Dining Room table (purchase with Delta Bingo funds as part of the display collection) in the Warren General Store really comes in handy for multiple events, from board meetings to teas and store displays.
September, 2017
Friday, September 8th, Linda Calder met with Fairview Lodge Recreation Department to arrange tours for seniors. Proposal is to host visits/tours on the museum main floors combined with the 'Arm Chair' PowerPoint Presentation which has been given on other occasions by Monica Effenberger.
Friday, September 8th, 1:00pm – Volunteer Meeting – volunteers were invited to participate in fall-winter planning. Material was shown on the large screen TV in the Warren General Store of proposed Fall Programming, information about the OTF Seed Grant implementations, Christmas planning, and more. Gwen Tuinman presented a script she has written called,  'John' – a story about Jabez and Clarissa entertaining John and Asa Lynde during their August 1817 visit, based on material from Sybil C. Lynde Stirling's book, 'To a House in Whitby'. The text for the fall-winter planning and sign up sheets were printed out and on hand in the Operations Binder by Monica Effenberger for volunteers to view and use after the meeting. Trina also sent copies to volunteers via email as requested. Volunteers brought up other topics of concern and discussion followed. Eleven participants in the meeting were Ruth Edwards, Jennifer Dunn, Monica Lawlor, Linda Calder, Barb Auchterlonie, Breck Stewart, Gwen Tuinman, Carolyn Johnson, Mary Prettie-Elliotte, Barb Haug, Monica Effenberger, Trina Astor-Stewart.
September 12, Official start of the Ontario Trillium Foundation Seed Grant Educational Program entitled Seniors to Students Project implementation planning; new volunteer recruitment; workshop scheduling; consultation with Lauri Geuzebroek, DDSB; and Ontario Trillium Foundation Recognition Event planning are ongoing. Special thanks to the Ontario Trillium Foundation for this award.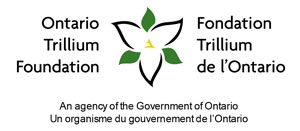 September 15th, Pre- Event set up by Monica Effenberger and Trina Astor-Stewart including images for display outside at the next day's Senior's Event. These images were previously on display at Cullen Gardens. Photograph copies were made of the collection for use in a future PowerPoint Presentation. The image on the left shows a group of men in Davidson's Garage c. 1920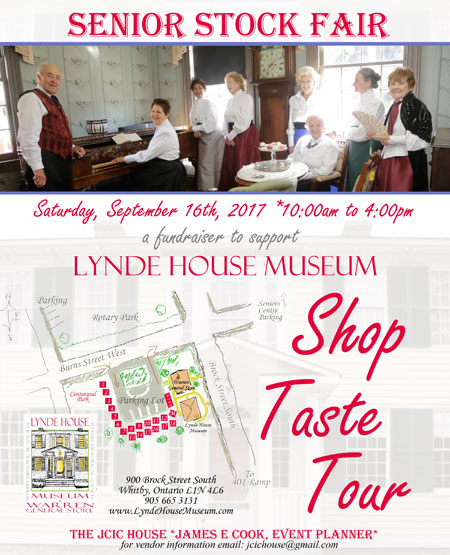 September 16th, Senior Stock Fair – Organized by JCIC House, James Cook.
Lorne Coe, MPP for Whitby – Oshawa and Mayor Don Mitchell attended the event.
57 people attended the event to see the displays, enjoy treats and tour the museum. Visitors to the museum were entertained by volunteers in each room in costume.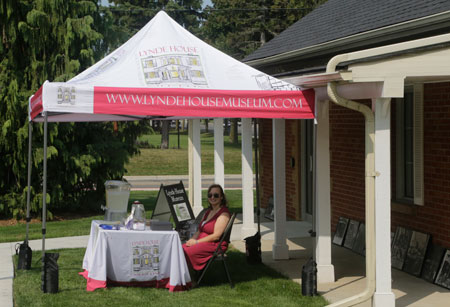 Monica Effenberger, Curator – getting ready for the visitors at the lemonade stand under the Museum's Pop-up Tent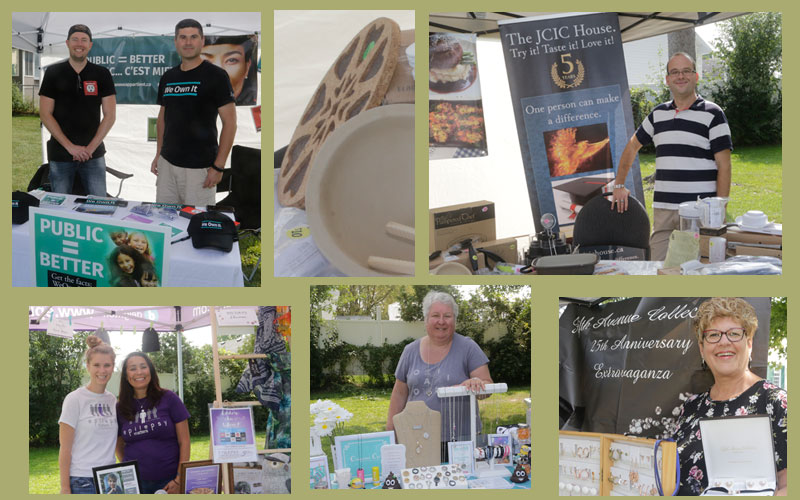 Senior Stock Fair Vendors – Thank you for supporting Lynde House Museum
Event Organized by: The JCIC House-Pampered Chef Fundraiser; James E Cook, Event Planner
-Epilepsy Durham Region, Dianne McKenzie, Executive Director, Chelsea Kerstens, Community Outreach Associate
– Cup Cake Junkie Cafe    404 Brock Street South, Whitby
– 'We Own It' – Joel Usher
– Fifth Avenue Collection Jewellery, Marilyn Petitti
–Origami Owl – Your Locket Lady, Helen Miklaszewski, Paws Collection
–  Mount Lawn Funeral Home & Cemetery by Arbor Memorial, Allison Aubin-Pre-Planning Director.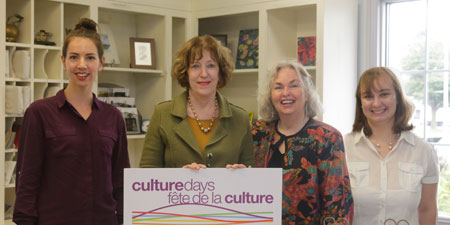 Meaghan Froh Metcalf, Program Manager, Ontario Culture Days, visited and enjoyed her first tour of the museum. LtoR: Meaghan Froh Metcalf,  Angie Littlefield, Trina Astor-Stewart and Monica Effenberger.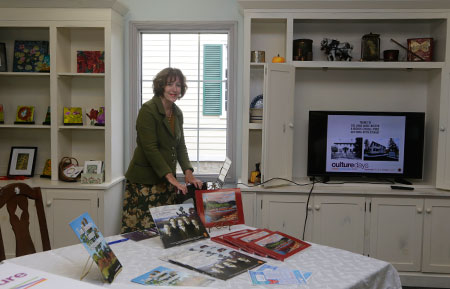 Angie Littlefield is shown here getting ready to give her presentation about Tom Thomson. Visitors enjoyed the presentation on the large screen TV monitor conveniently placed in the new cabinetry custom-made by Woodwork Studios in Whitby. With this arrangement of furniture and movable tables and chairs, the setting can be changed to suit multiple types of events.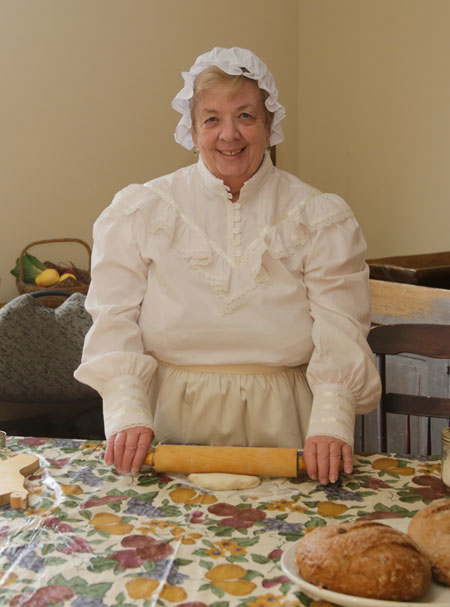 Linda Calder is a retired teacher and enjoys demonstrating and talking about how old fashioned baking was done in the hearth.
Culture Days: – Warren General Store is almost ready for shopping. Artists have brought in their works and Monica Effenberger has created some beautiful displays.
Friday, September 29th, Culture Day One: Angie Littlefield, Author of Tom Thomson's Fine Kettle of Friends was at Lynde House Museum for Culture Day to give a presentation about her most recent work and sign copies of her book, which are on sale in the WGS.  .
Friday, Evening and Saturday 30th Culture Day Two -7:00pm to 9:00pm An Interpretive Tour of Lynde House Museum with stories of the Lynde Family were enjoyed by visitors.
Town of Whitby -Heritage Day – Saturday, September 30th –
The Lynde House Museum's pop-tent was set up by volunteers in the downtown area to be included in the downtown festivities. Monica Effenberger and Monica Lawlor engaged children in Heritage Crafts, handed out museum literature and several volunteers also handed out materials downtown in costume. 293 visitors came to the table downtown.
Bake Sale at Warren General Store:  Barb Haug and Sharon Heinrich organized a bake sale in Warren General Store for fundraising. The home baking was amazing. Barb's butter tarts sold out fast as did Sharon's amazing apple pies. Keep your eyes open for the next bake sale! Many thanks to all the volunteers who donated home baking.
Interpretive Tours of Lynde House with costumed volunteers:
Diane Carson, Barb Auchterlonie, Linda Calder and
Trina Astor-Stewart gave numerous theatrical style interpretive tours of Lynde House Museum.
Visitors are always delighted when tours are given using the 'theatrical' interpretive model. Every tour is a little different, since décor, themes, stories and enactments change. The Lynde and Warren families -spanning decades of life around Lynde House, provide endless accounts that can be used as the basis of stories and educational material providing living history enactment events.
Even tours of only one or two visitors can be treated to a theatrical interpretive as has been performed on numerous occasions by Trina Astor-Stewart playing the part of Louisa Lynde Warren welcoming visitors to birthday party preparations for her mother Clarissa Lynde.
These tours incorporate talking points on artifacts on display in each of the rooms and some parts engage visitors with a little guessing game.
October 2017
Sunday, October 1st, Culture Day Three – 2:00pm to 4:00pm. Volunteers presented Interpretive Tours of Lynde House Museum with stories of the Lynde Family'.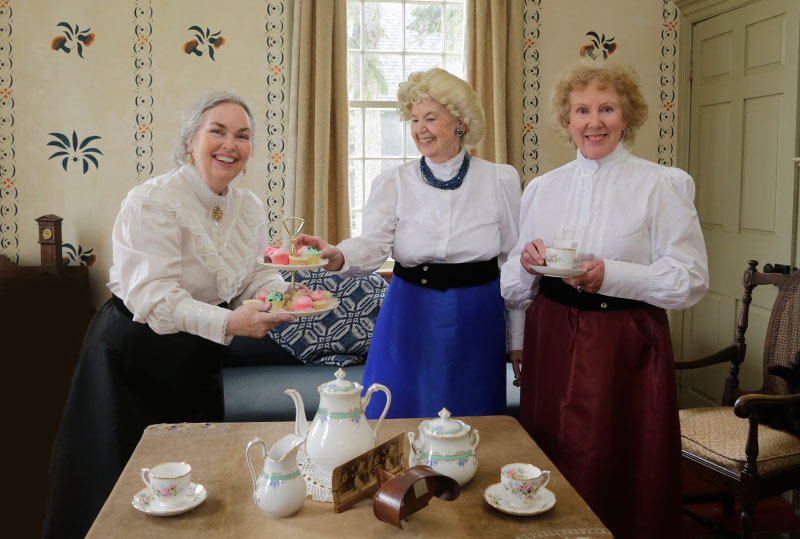 LtR: Trina Astor-Stewart offers Monica Lawlor and Mavis Mawby some tea and treats during the tour.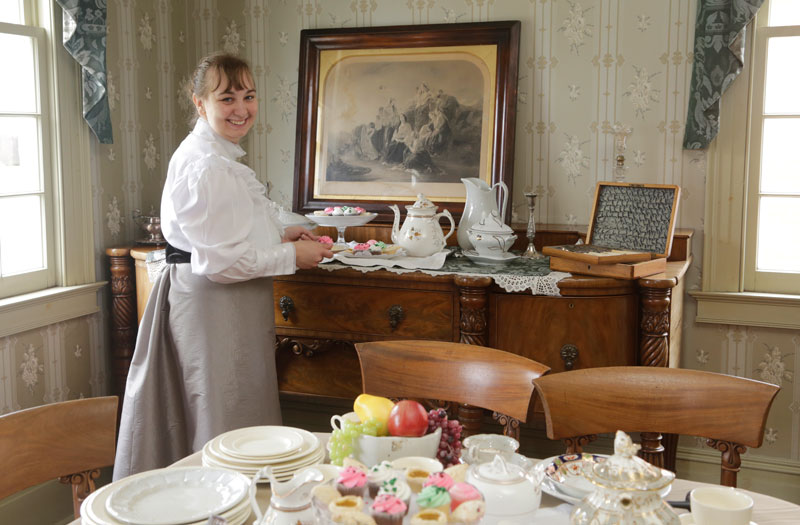 Monica Effenberger, in the Dining Room, shows how much fun tea time was in the olden days.
Wednesday, October 4th – Durham Community Foundation Philanthropy Forum – at Deer Creek was attended by Monica Effenberger and Trina Astor-Stewart, it was a great opportunity to learn and network with Durham Region charities and non-profits. They manned a table at the event, handed out literature and also were able to give a short presentation. Speakers presented numerous ideas that would be good to implement for the museum.
Tuesday, October 10, 7:00pm – A Sorority Group Tour was given by Monica Effenberger.
Thursday, October 19, Sarah Ferencz and Gillian Dunk, Whitby Archives brought items to add to the museum collection, these included The Teddy Rowe Collection and 5 bankers boxes of historical paperwork from the Whitby Historical Society. They were also given an interpretive tour of the museum. Sarah wrote in a follow-up email, "Trina, thanks to you and Monica for taking the time to show us around. You've done a lot in the short time you've been at the Lynde House!"
Saturday, October 14th – Services for Seniors Tour  -Jessica Fox of The Whitby Seniors' Centre organized a multi-venue tour after Monica Lawlor suggested this would be a good addition to the tour. Lynde House staff and volunteers were happy to participate in the day. This was the first year the Seniors' Centre has held the tour.
Friday, October 20th- Russell Beare Event with Angie Littlefield, author; and Rob McCulloch, educator. Children from the Durham Homeschool and parents organized by Kathy Zaremba attended.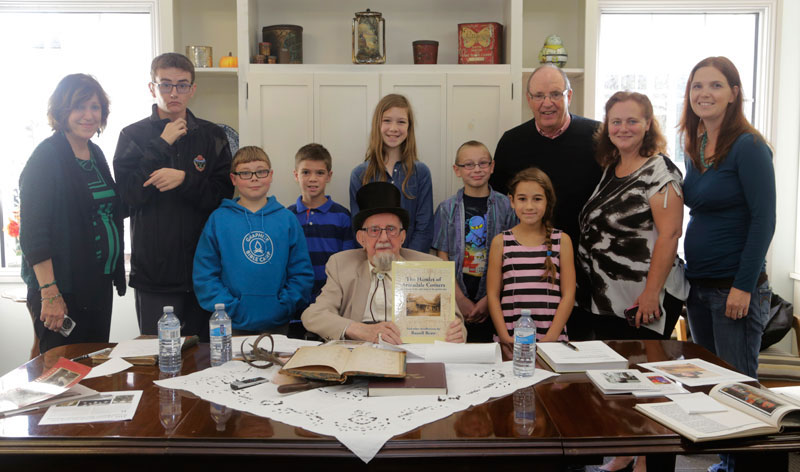 Russell Beare isa  100 year old gentleman who worked in an original Old Fashioned General Store and Post Office as a young man. The children and volunteers attending enjoyed hearing Russell's answers to questions about his most interesting life.
Russell Beare wrote a book of the history of Armadale where he grew up. Armadale was located at the corner of Steeles Avenue and Highway 48 and produced twelve championship plowmen in its heyday. The book tells about residents in the community he knew. Stories of the Miles, Deffett, Robb, Jarvis, Clayton, Tapscott, Daniels, Cox, Timbers and Beare families are mentioned.
Russell tells stories involving the reuse of the 'Speight Wagon Works' building after the company went bankrupt in November 1917. Russell's father, John, purchased the building and for a time operated the Beare Bros. & Clayton General Motors auto dealership from the building. Those were the days when a new Chev truck cost $925!
Proving that a disability can be overcome, Russell became a local businessman and investment advisor for many years on Main Street in Markham, Ontario. His happiest memories are those shared with family members and his many grandchildren.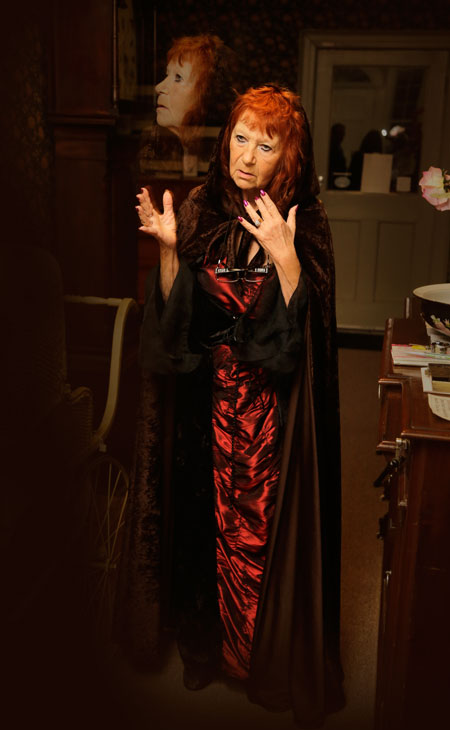 Gail Waine, entertains guests with spooky tales.
Friday, October 27th – Gail Waine, Medium, regaled visitors with spooky tales of Whitby in the Parlor at Lynde House. The long forgotten tunnels used to smuggle in prohibition times are haunted she says.
Saturday, October 28th  A Halloween Children's Parade Tour of Lynde House was held with Craft Tables set up in the Warren General Store. For all of us who helped on this rainy Saturday, it was really heartwarming to see the little costumed kiddies brought by parents to tour through Lynde House.
There were several 'parades' of ghosts, goblins, fairies and princesses through the house. Parents and tots sat around plastic covered tables in the Warren General Store enjoying family time making crafts. 94 visitors participated in the Halloween event. Volunteers assisting Monica Effenberger in the Warren General Store were, Ruth Edwards and Sharon Heinrich, Joel McLellan,  Monica Lawlor; Catherine Johnson and friend; Rod and Ada Angevaare; Joany Burtinsky; Pavel Zeman; Laura Horseman and friend. Volunteers providing interpretive tours on October 28th were Rod Angevaare  Barb Haug; Al and Mavis Mawby; Linda Calder and Trina Astor-Stewart. Also at 12:30 – A Special Tour was given for 30 members of the Heritage Whitby Advisory Committee – formerly LACAC.
Sunday, October 29, 2017 -Monica Effenberger and Trina Astor-Stewart participated in the Durham Community Foundation Walk for Charity at Deer Creek Golf Course. The event was well attended by many Durham Region Charities and their supporters. The walk was an easy one, through the Deer Creek trails.