Lynde House Museum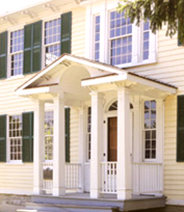 and Warren General Store
900 Brock Street South
Whitby, ON L1N 4L6
905 665 3131
Charitable Registration number -
Whitby Historical Society
BN 10820 6228 RR 0001
Please have a look at our upcoming events below, by month. Be sure and save the dates on your calendar, we have an exciting museum season coming up!
SEPTEMBER
Friday, September 8th, 1:00pm – 4:00pm- volunteer 'open house' meeting, sign up for stuff, put forth any ideas you have for the museum and just visit and ask questions. We welcome new volunteers. Lots to do and have fun.
Saturday, September 16th, Senior Stock Fair Fundraiser- An outdoor event with interpretive tours inside. See poster below. Visit tables set up by vendors, enter draws for prizes, the museum tours are free, donations appreciated, taste foods, buy a cuppa tea and enjoy the day. Rain or shine outdoor event.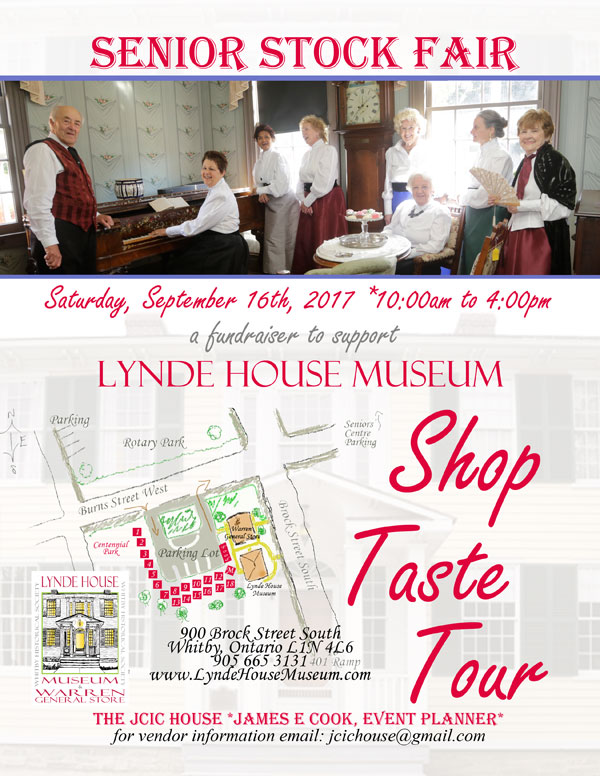 End September – We are planning to launch the new Warren General Store where we will have many artists works, artisan crafts and more for sale. The new Warren General Store is so named for the son-in-law of Jabez and Clarissa Lynde who started the first post office in the area in his general store at Hamars Corners. John Borlase Warren was the first Postmaster of Whitby Township. His wife's name was Louisa Lynde Warren. There are many fascinating stories surrounding the family and peers of the Lynde's… Why not visit and hear more.
Friday, September 29th, 11:00 AM to 4:00 PM –Culture Day One – Angie Littlefield, Author of the book, 'Tom Thomson's Fine Kettle of Friends' will be at Lynde House Museum for Culture Day to give a presentation about her most recent work and sign copies of her book. https://culturedays.ca/activities/view/5978fc8d-44b8-4e35-bca9-2abd8ac5a4f1/language:en#tab-1
Friday, September 29th Culture Day One -7:00pm to 9:00pm
Come enjoy an Interpretive Tour of Lynde House Museum with stories of the Lynde Family. Meet in Warren General Store – Two tours one at 7:00 next at 8:00pm.
https://culturedays.ca/activities/view/59877f87-cc60-4a38-b648-40ee8ac5a4f1/language:en#tab-1
Heritage Day – Saturday, September 30th – 11:00am to 4:00pm ..and Culture Day Two
Children's Hands on Heritage Activities and Museum Tour for all ages. Come back to find out more plans for Heritage Day.
https://culturedays.ca/activities/view/59878947-7f2c-48db-9eb0-417e8ac5a4f1/language:en#tab-1
OCTOBER
Sunday, October 1st, Culture Day Three – 2:00pm to 4:00pm
Interpretive Tour of Lynde House Museum with stories of the Lynde Family.
https://culturedays.ca/activities/view/59878694-6470-4309-b490-42138ac5a4f1/language:en#tab-5
Thanksgiving- Friday, October 6th – Plans to be announced
Monday, October 9th, Happy Thanksgiving Day to everyone! The museum will be closed today.
Saturday, Oct. 14 Genealogy Society Conference 9:00am to 3:30 pm.
Venue: Faith United Church, 1778 Nash Road, Courtice ON
The museum will have a table at the event to showcase some artifacts. Genealogy is a great match for museum history. We have a great deal of genealogy information about the Lynde Family at the museum. If you would like to attend this Conference please go to their website, durhamevents@ogs.on.ca – buy a ticket and attend. The events are always informative.
Friday, October 20th- (Time TBD) Russell Beare- Event at the museum by invitation only.
Russell Beare is a 100 year old gentleman who worked in an original Old Fashioned General Store and Post Office as a young man. This event will be for invited children and grandparents for the purpose of providing an audience. The goal of this is, to add it to the school program, use the video and information at our Warren General Store and Post Office, and create a lasting legacy of Russell Beare and his experiences.
Halloween: Friday, October 27th – Spooky Museum Party at the Museum. The Ghostly and the Ghastly! Is Halloween one of your 'things' come enjoy a spooky tour through Lynde House Museum. Please email or phone ahead, tickets: $20.00 each.
Saturday, October 28th Halloween Children's Costume Parade with a special haunted children's tour. Games, crafts, etc. Please reserve your spot, tickets $10.00 each.
Sunday, October 29, 2017 Durham Community Foundation Walk for Charity at Deer Creek Golf Course which will close off a 9 hole course to provide the space for the walk. Sunday before Halloween. Please plan to participate in this to support our Anonymous Donor. Tickets will be available for purchase and includes a BBQ. So if you don't want to walk, just come eat and have fun! Special thanks as always to the Donor who helped make it possible for WHS to operate Lynde House Museum.
Tuesday, October 31st – Halloween Day at the museum. Dress-up – All day seniors drop in for spooky treats? Come hang out and have fun, visit with each other, shop at Warren General Store, have tea….
NOVEMBER
If your school or children's group would like to visit Lynde House Museum to participate in our special school program Seniors to Students… with programs based on school curriculum, please email or phone for information.
Thursday, November 2nd –Durham Region Ontario Homeschoolers Group will visit Lynde House Museum Booking at Museum: half day – 10:00am to 1:00pm Program for 5 to 10 year olds.
Friday, November 3, 2017 DCF Random Act of Kindness Day – Be kind to someone today, pass it forward, this is a Durham Region wide event. Participate, have fun and make someone's day a little brighter!
Tuesday, November 7th. Shhhhh……. Santa is in town and his elves are at Lynde House transforming it for Christmas…. It takes about two weeks to set up all the trees and special Victorian Candles. Each year we have a new theme, this years theme will be a surprise til the very last minute when the doors spring open and you can see our amazing displays. Our volunteers will be soooooo busy as they get things ready… all to Santa's satisfaction of course!
Friday, November 10th- School Visit Program for Remembrance Day. and Saturday, November 11, Remembrance Day. Please remember those who gave their lives, their youth and their strength. May we always be grateful for their service! Please remember members of our armed forces today also, who stand up for Canada, for peace around the world.
Friday, November 17th Be the first to see the new decorations at Lynde House for an Evening Christmas Tour, Theatrical and Christmas Shopping specials at Warren General Store beside Lynde House Museum.
Saturday, November 18th Pre-Christmas Event (Theme to be Announced) and Shopping at Warren General Store.
Come Celebrate with Us… At a World Premier Theatrical Event
Celebrating the Anniversary of Opening Lynde House Museum – November 24th and the Whitby Historical Society's 50th this year! The Society, was begun by a group of citizens as a Centennial Project. We are happy to welcome you to Lynde House, the emotional heart of the Region and a microcosm of Southern Ontario. Many thanks to the Town of Whitby for their efforts in saving this historic home by moving it here and continuing with a great deal of restoration work. Formerly a jewel at Cullen Gardens, Lynde House continues to welcome and treat its visitors.
The Lynde Family who were early settlers and their peers represent our roots. With many stories barely told, our volunteers bring them to life … in a living museum, almost theatrical style…as you tour through Lynde House. Interpretive guides portray the lives and recount stories of days gone by. This event continues a year long Anniversary Celebration as WHS was incorporated in May 1968. In cooperation with our educational and cultural mandate WHS presents a World Premier production by Live History! This professional theatre company engages or volunteers in theatrical interpretive training for our Seniors to Students Educational Project and more. Please come back to hear more about tickets as we finalize these plans.
Tuesday, November 21, Live History Volunteer Training 10:00 am to 4:00pm
Wednesday, November 22, Live History Volunteer Training 10:00 am to 4:00pm
Thursday, November 23rd, Live History – TBA
Friday, November 24th, Live History – World Premier – Round Table Event… and more.
Saturday, November 25th, Live History – World Premier – Round Table Event… and more.
Sunday Nov 26th – VON Brunch Presentation Victorian Era – private booking.
Wednesday, November 29th, WHS AGM and Volunteer Social Christmas Pot Luck Lunch. – from 8:00am open – Event 10:00am -4:00pm at St. Andrews Presbyterian Church Hall, Whitby ON.
DECEMBER
Evening at the museum before Christmas is a magical time to visit. Filled with Victorian candlelight you will be transported to a by-gone era. Plan to visit as we work on more things to amaze you when you visit!
Friday, December 1st – Evening Christmas Event – After the Whitby Official Tree Lighting Ceremony downtown, visit the museum and Warren General Store for a little Yule-tide joy and shopping.
Saturday, December 2nd Christmas Event – Shopping at Warren General Store after Santa Claus Parade. Enjoy a Hot Chocolate!
Friday, December 8th Pre-Christmas Tour- (musicians in playing Christmas music in the music room). Saturday, December 9th Pre- Christmas Tours and Shopping at Warren General Store. Pre- Hanukkah, Craft Corner for Kids. Yule-Tide around the world in the Victorian Era.
Friday, December 15th Christmas Evening Tour – Theme to be announced.
Saturday, December 16, Christmas Event, Bake sale at Warren General Store – Craft Corner for Kids.
Friday, December 22nd Evening Special Christmas Tour – Theme to be announced.
Saturday, December 23rd, Morning Museum getting ready to close for holidays. Last minute shopping at Warren General Store, Museum Closes at 2:00pm. The museum is closed during the Christmas week so all our volunteers can enjoy the holidays.
We wish everyone a very Merry Christmas and a Happy New Year.
May you have wonderful family dinners, relaxing times with family and friends.
Remember to think of those who are alone at this time of year
and include them in your plans.
All it takes is just a little bit of cheer, a kindness, and it can make all the difference in someone's life.
The museumn opens again on January 2nd …see you for another exciting year!