Lynde House Museum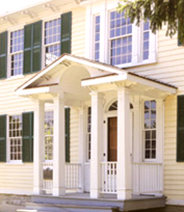 & Warren General Store
900 Brock Street South
Whitby, ON L1N 4L6
905 665 3131
Charitable Registration number -
Whitby Historical Society
BN 10820 6228 RR 0001
Lynde House – An Accessible Museum
Lynde House Museum & Visitor Centre are pleased to offer you an accessible museum.
The Visitor Centre is accessible on the ground floor and is equiped with two wheelchair accessible restrooms. There is a baby change station in one. In Lynde House itself, the rear entrance is wheel chair accessible, we use that entrance a lot ourselves as it is so convenient. The four main rooms downstairs, are also accessible. There are two flights of stairs leading to the upper floor, these must be navigated by walking. We don't have provisions in place to bring anyone up or down at the current time. The stairs are wide and have hand rails.
Inside the Visitor Centre we do have a Defibrulator and some first aid supplies.
Tours are always guided, so for any emergency or situation, we can easily call 911.
Outside there are new walkways leading to all the entrances. These can be accessed easily. There is a large parking lot and a space where you can drive your vehicle right up to the walkway entrance to the Visitor Centre.
If you have special needs that we can help with, please ask, we are always happy to help. Please email ahead to make your museum visit the best possible.
Come back and view this page as we will be adding a list of easy to reach restaurants and lodgings that are easily accessible.