Lynde House Museum …moves and more
Lynde House Museum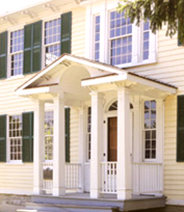 & Warren General Store
900 Brock Street South
Whitby, ON L1N 4L6
905 665 3131
Charitable Registration number -
Whitby Historical Society
BN 10820 6228 RR 0001
Lynde House …a short history
Jabez Lynde came to Whitby Township, first with his father-in-law – Hawkins Woodruff, to build the original log cabin in order to secure land in Upper Canada. He returned with his wife Clarissa Woodruff Lynde around 1803. Clarissa's parents also came and they settled in Pickering. They immigrated from Massachusetts and Connecticut.
Lynde House was built c. 1812. Lynde House was modelled to be similar to the first home built by the Lynde family in Massachusetts. Source: Sybil Lynde Stirling's Book, 'To A House in Whitby". That home was called, "Malden". Jabez Lynde served in the militia during the war of 1812 and offered his home during that time as an Inn and place to secure supplies on the way to battle in Niagara. The wounded also returned for assistance provided by two doctors, Dr. Lee and Dr. Powell. One can only imagine how not only Jabez contributed during this war, but how his wife, Clarissa, might have managed recruiting help from neighbour women to help cook and nurse the wounded.
Two of the Lynde daughters, Clarissa and Louisa, married two Warren brothers who immigrated from Cork, Ireland; William Warren and John Borlase Warren.
There is much to the story of the Lyndes and the Warrens and the beginnings of this area, their friends, family and compatriots 'pre-Confederation'. Members of the Lynde family lived in the Lynde House until 1867.
A little genealogy:
Jabez Lynde 1773-1856 – Born 12 Feb 1773 in Brookfield, Massachusetts, USA
Son of John Lynde and Sarah (Warren) Lynde (as you can see, the Lynde's and the Warrens have quite a family history)
Married to: Clarissa Woodruff Lynde 1774-1830 – Born 24 Mar 1774 in Winchester, Litchfield, Connecticut, USA
Daughter of Hawkins Woodruff Sr. and Lois (Hills) Woodruff.
Lynde House was originally located beside Lynde Creek on Dundas Street in Whitby, Ontario. It has been moved twice, once to Cullen Gardens and now to the corner of Brock and Burns Streets at 910 Brock Street South, Whitby. Having had two new foundations in its day has probably saved this wood frame home for future generations. The Town of Whitby has made many restorations to assure the home lasts as a legacy for these early settlers.
A transformation as told through photographs… July 2015 to December 2017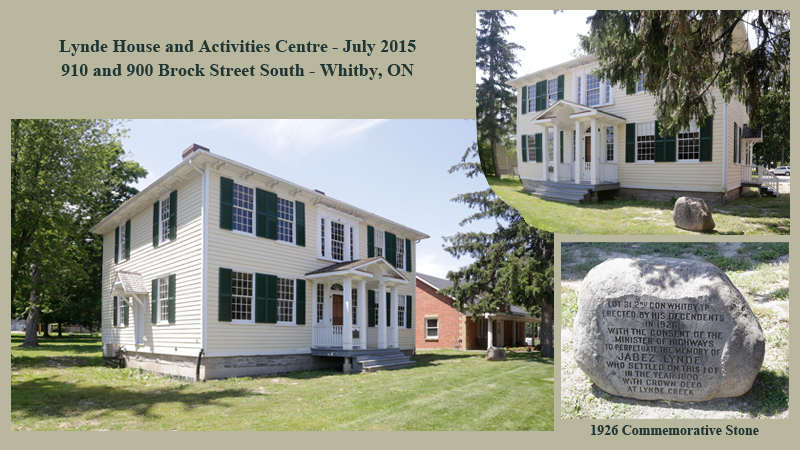 1926 Commemorative Stone
"LOT 31 2nd CON WHITBY TP. ERECTED BY HIS DESCENDANTS IN 1926 WITH THE CONSENT OF THE MINISTER OF HIGHWAYS TO PERPETUATE THE MEMORY OF JABEZ LYNDE WHO SETTLED ON THIS LOT IN THE YEAR 1800 WITH CROWN DEED AT LYNDE CREEK"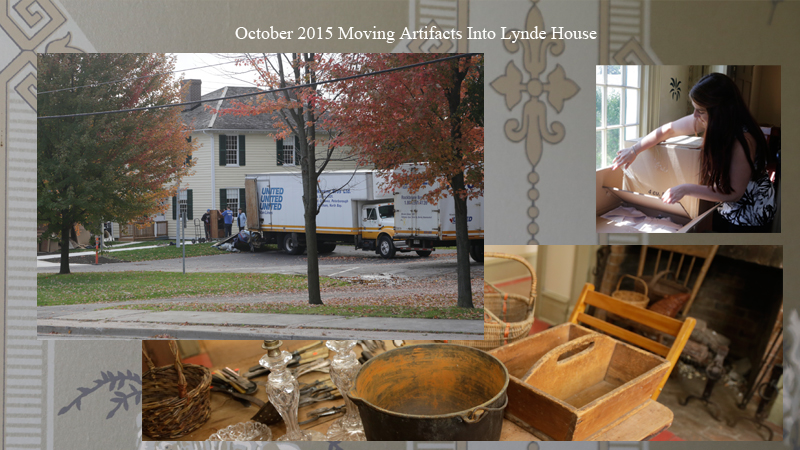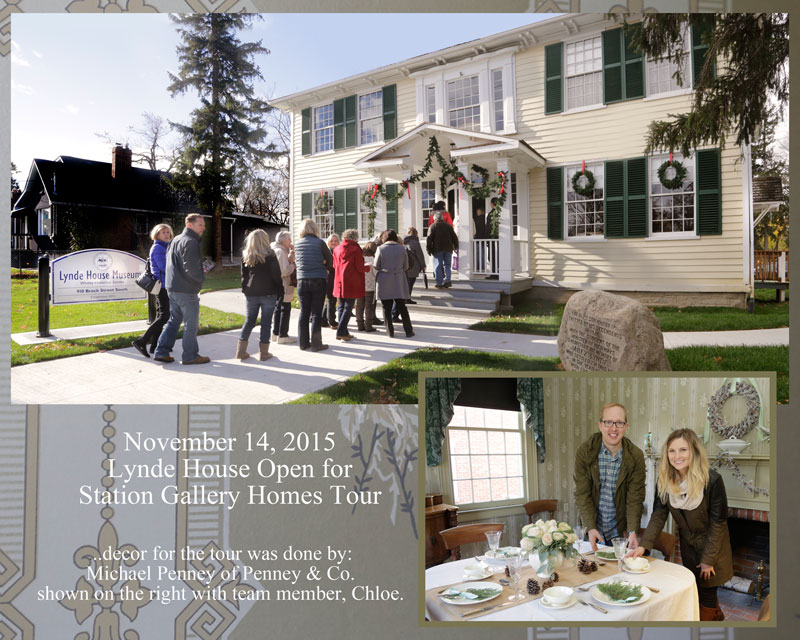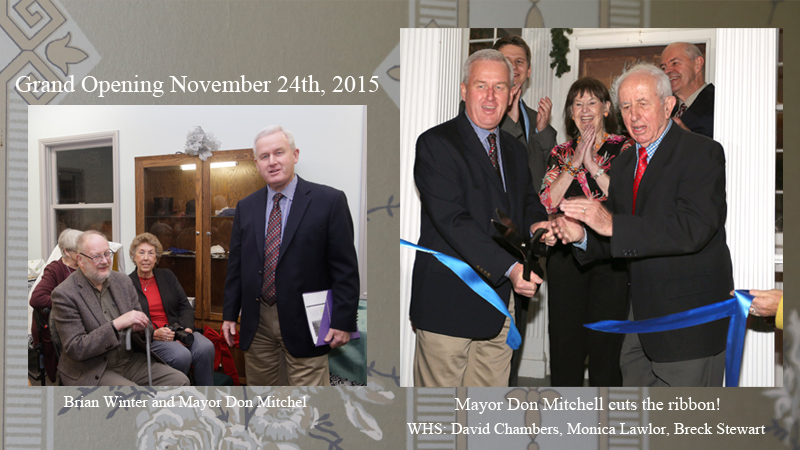 photo: Paul Stiles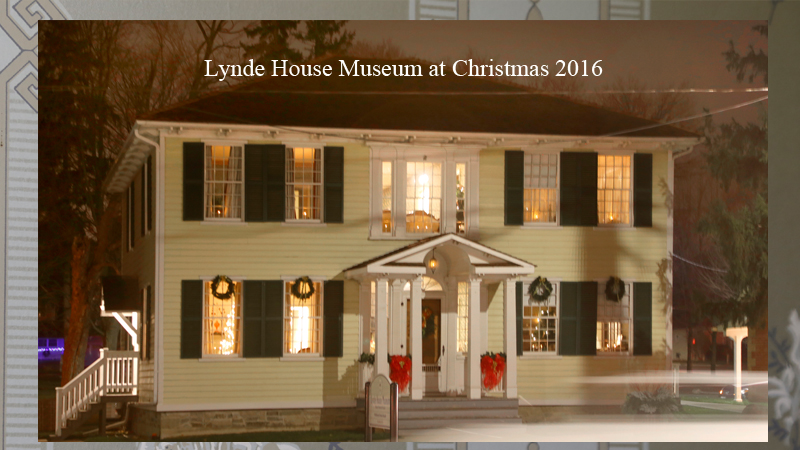 Lynde House Museum – Christmas by Candlelight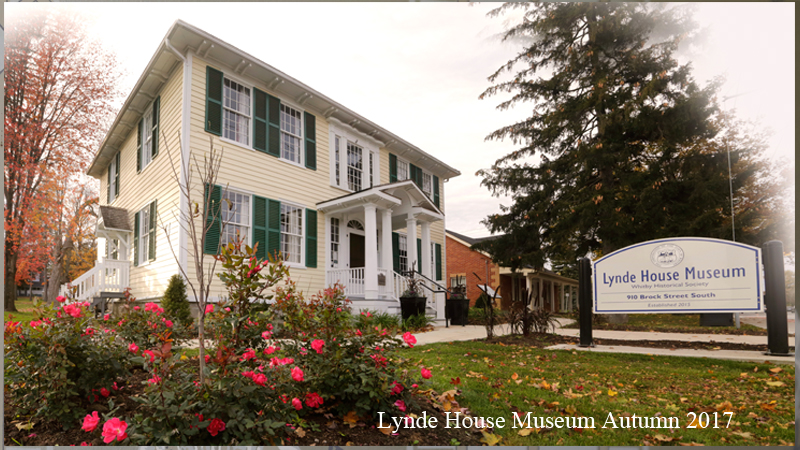 Lynde House has a special place
in our hearts !
Thousands of people lined the streets for each of Lynde House's two moves! Here is a little history since the move to where it is located now at the corner of Brock and Burns Streets.
It was moved from its original location at 960 Dundas Street West, in Whitby , Ontario to Cullen Gardens on Taunton Road in 1986 and again… in 2013 to its permanent home at the corner of Brock and Burns Streets where it stands now. In the images on the left, you can see Lynde House as it was in its original location, a view during each move, and  in its present location before walkways and renovations to the front verandah and gardens were instituted.
Notice the original rock in the front of the house.
From 2013 to November 2015 the Town of Whitby engaged in the first efforts to secure the house on its brand new foundation and get ready for it to open its doors. It is said that the older wooden frame buildings disintegrate mostly because the foundation crumbles underneath the weight of the structure. Lynde House will last another two hundred years! Thank you Town of Whitby for the renovations and insight to secure the legacy of Lynde House for generations to come.