Lynde House Museum …getting ready to open in 2015
Lynde House Museum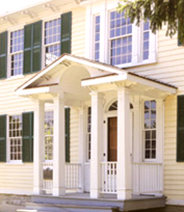 & Warren General Store
900 Brock Street South
Whitby, ON L1N 4L6
905 665 3131
Charitable Registration number -
Whitby Historical Society
BN 10820 6228 RR 0001
2015 Events in Review
at
Lynde House Museum
Station Gallery Christmas Homes Tour – Nov. 14th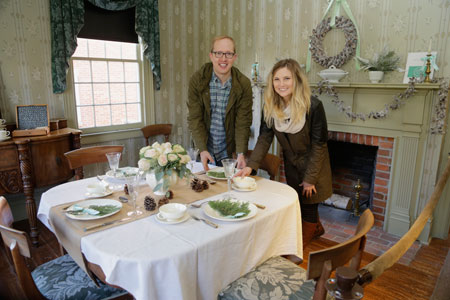 Michael Penney and Chloe of Penney & Co. put the finishing touches in the Dining Room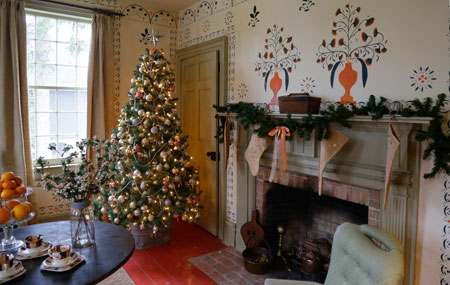 The Parlor showing the original hand stencilled walls.
The Grand Opening – November 24th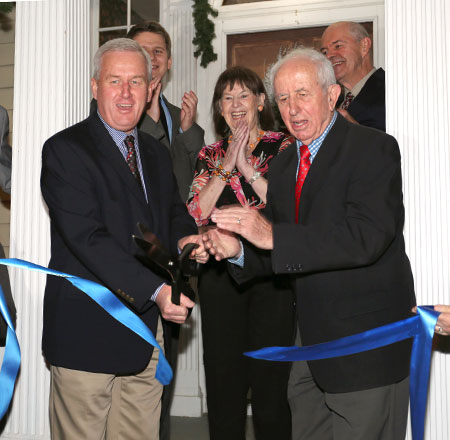 LtoR: Mayor Don Mitchell, Monica Lawlor,
David Chambers, and Breck Stewart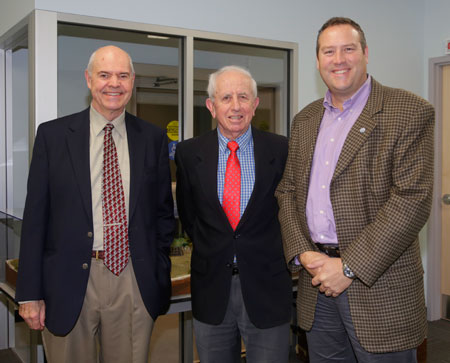 About 70 people attended the Grand Opening and filled the Activities Centre, located beside Lynde House. Above, chatting at the event are, LtoR: Breck Stewart, Secretary-Treasurer; David Chambers, President; and Michael Emm, Whitby Councillor. Mr. Emm has often supported WHS events in the past, expressing appreciation for efforts to further Whitby heritage.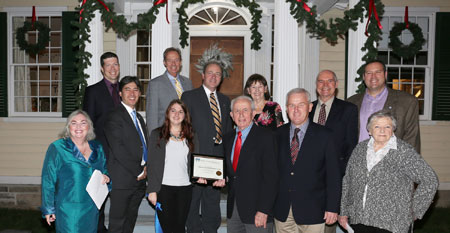 Group in front of Lynde House at the Grand Opening
Presentation of Donation
by Durham Community Foundation
May 2015
Once again, sincere thanks are due, as without the funding received by an Anonymous Donor through the Durham Community Foundation, the Society would not have had the funds with which to open, pay staff and operate the museum.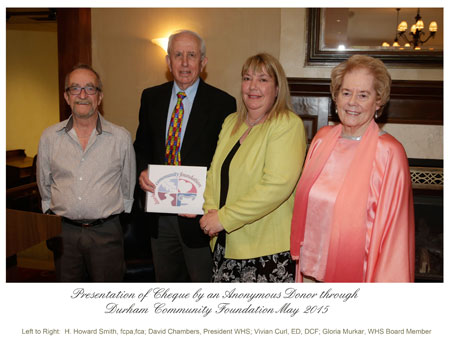 LtoR: H. Howard Smith, fcpa,fca -Not-For-Profit Consultant; David Chambers, President; Vivian Curl, Executive Director for the Durham Community Foundation; Gloria Murkar, Board Member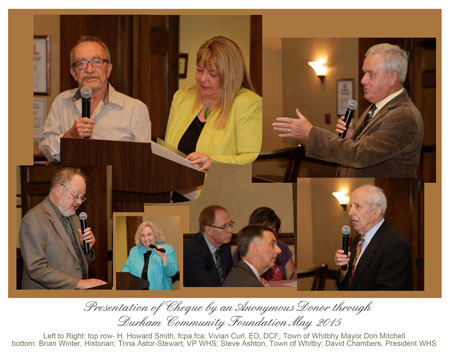 LtoR: top row- H. Howard Smith; Vivian Curl; Don Mitchell, Mayor –bottom row: Brian Winter, former Whitby Archivist; Trina Astor-Stewart, VP; Steve Edwards, Town of Whitby; David Chambers, P.
A Very Special Thank You !
In 2014 and again in 2015 proposals were submitted to the Durham Community Foundation . The funds received from an Anonymous Donor through the Durham Community Foundation enabled the museum to open.
In A Big Hurry to Open !
Yes, there was a big push to open as the board had agreed to place Lynde House Museum on the Station Gallery Homes Tour!
November 14th – Station Gallery Homes Tour
November 24th -Grand Opening attended by Mayor Don Mitchell and other dignitaries.
November 28th – First Official Open House and Tour for the Public.
Michael Penney of Penney & Co. (an official homes tour decorator) was contacted as it had been a life-long desire to decorate Lynde House for Christmas… There were only two weeks before the tour and what could we do with all those boxes? A call was placed to Michael Penney explaining the situation and he came right over with his staff and… as if by magic, the two museum buildings were organized and decorated for Christmas. Thank you Michael !
114 Dundas Street West, Whitby, Ontario
(905) 493–7300
125 Brock Street South, Whitby, Ontario
(905) 493–8900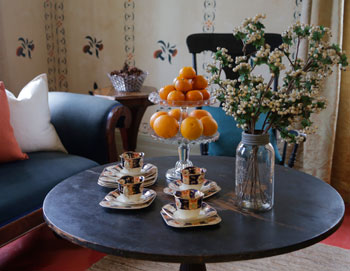 A Little About The Founding
of
Whitby Historical Society
…and appreciation for those who have gone before.
Many people over the years since the Whitby Historical Society was founded as a Centennial Project in 1967 have given of their time and talents to assure that Whitby heritage and Lynde House would remain for future generations to enjoy.
Whitby Historical Society was registered as a not-for-profit, incorporated in the province of Ontario on the twenty-eighth day of May, 1968. The original founders were, Helen Audrey Ingram, Constance Hope Muckle, Helen Cecilia Jeffery, Richard Gibson Valleau, Otto Alfred Vaughan, Lewis Alfred Guy Winter, (Former Whitby Archivist Brian Winter's father) and Adele Ruddy. The museum's collection moved from one building to another, shepherded by its caregivers.
In the 1980's Roderick Angevaare, Margaret Boyce, Neil Wick and Douglas Anderson among others cared for the collection. In 2005 Margaret Boyce secured funding from the Whitby Lion's Club in order to open a storefront museum at 123 Brock Street South and Margaret and Bernard Boyce together with other volunteers contributed to the funding through Bingo fundraising. After Margaret passed away suddenly the collection was placed in storage due to lack of funds, for safe keeping.
Margaret Clayton of LACAC- Whitby Heritage Committee -asked that Lynde House not be sold along with other buildings at Cullen Gardens.
Whitby Historical Society 2015 board of directors: David Chambers, President; Breck Stewart, Secretary-Treasurer; Trina Astor-Stewart, Vice President; Monica Lawlor and Gloria Murkar, Board Members; began negotiations with the Town of Whtiby to set up and operated Lynde House as a museum with the goal of saving this heritage for the future good of the community.
Though renovations were on-going to the property by the Town, the Society received limited access in July 2015 after signing a long term lease and agreement with the Town of Whitby.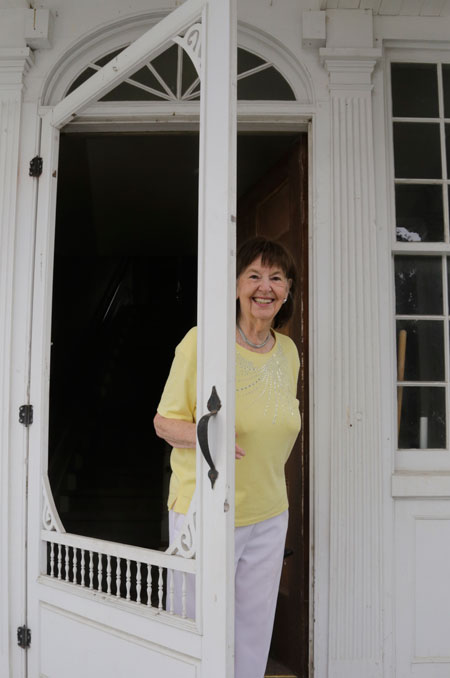 Monica Lawlor, Board Member poses at the front door of Lynde House. She recruited most of the volunteers in the first year through her many contacts and years of volunteer service at the Whitby Seniors' Centre. at 801 Brock Street South Whitby, ON Thank you Monica!
August – Unpacking Cullen Garden Artifacts continues: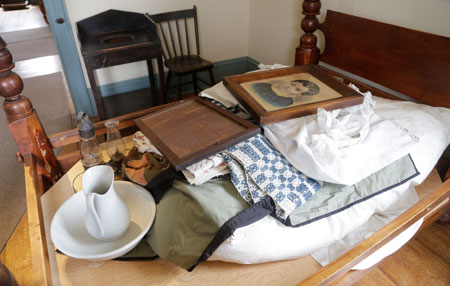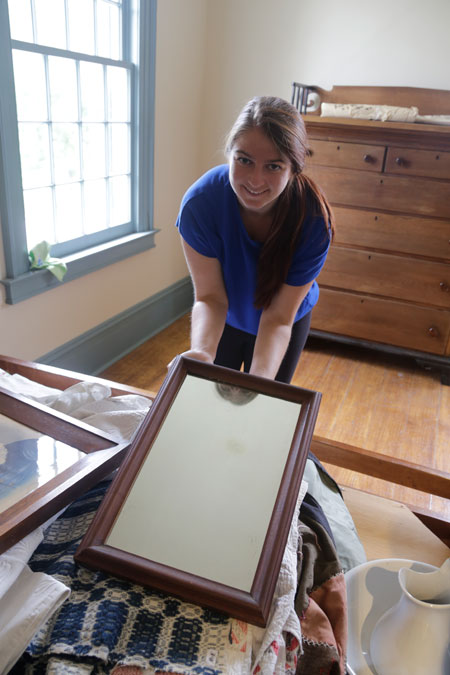 Kirstyn Allam poses for a photo as Trina documents the artifacts in the unpacking stages. Kirstyn, Trina and volunteers all worked together to create a Cullen Collection Catalogue report for Town of Whitby.
Finding many interesting things… So many treasures!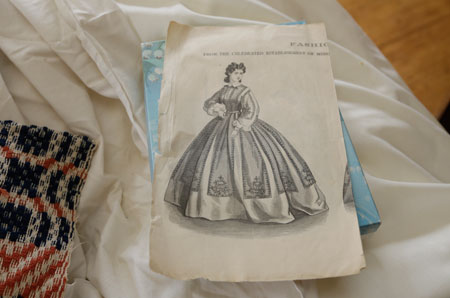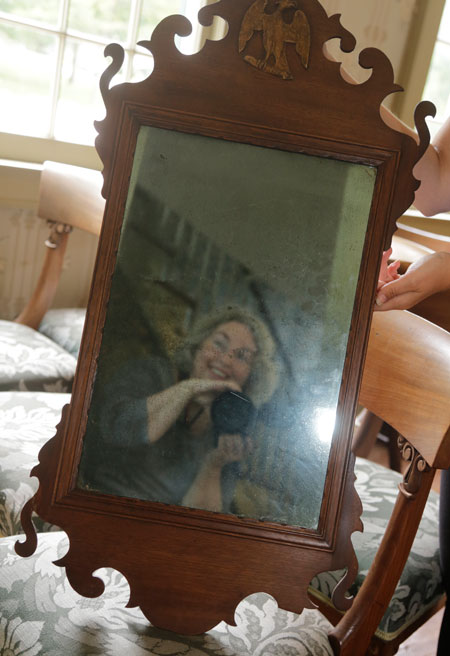 Trina Astor-Stewart takes a picture of a fancy mirror held up by Kirstyn. So many interesting things to document and research for stories. More stories needed to accompany artifacts and create a virtual museum for those who are at a distance…